CrashPad's still photographer posts their favorite photos from 2017
Hi CrashPad subscribers! I'm Tristan C, and I've been the photographer for Pink and White Productions for nearly ten years, which feels a little surreal! I want to take a second to share some of my favorite photos from this year's shoots. A lot of spectacular people showed up on set in 2017 and there were some really memorable moments, wouldn't you say?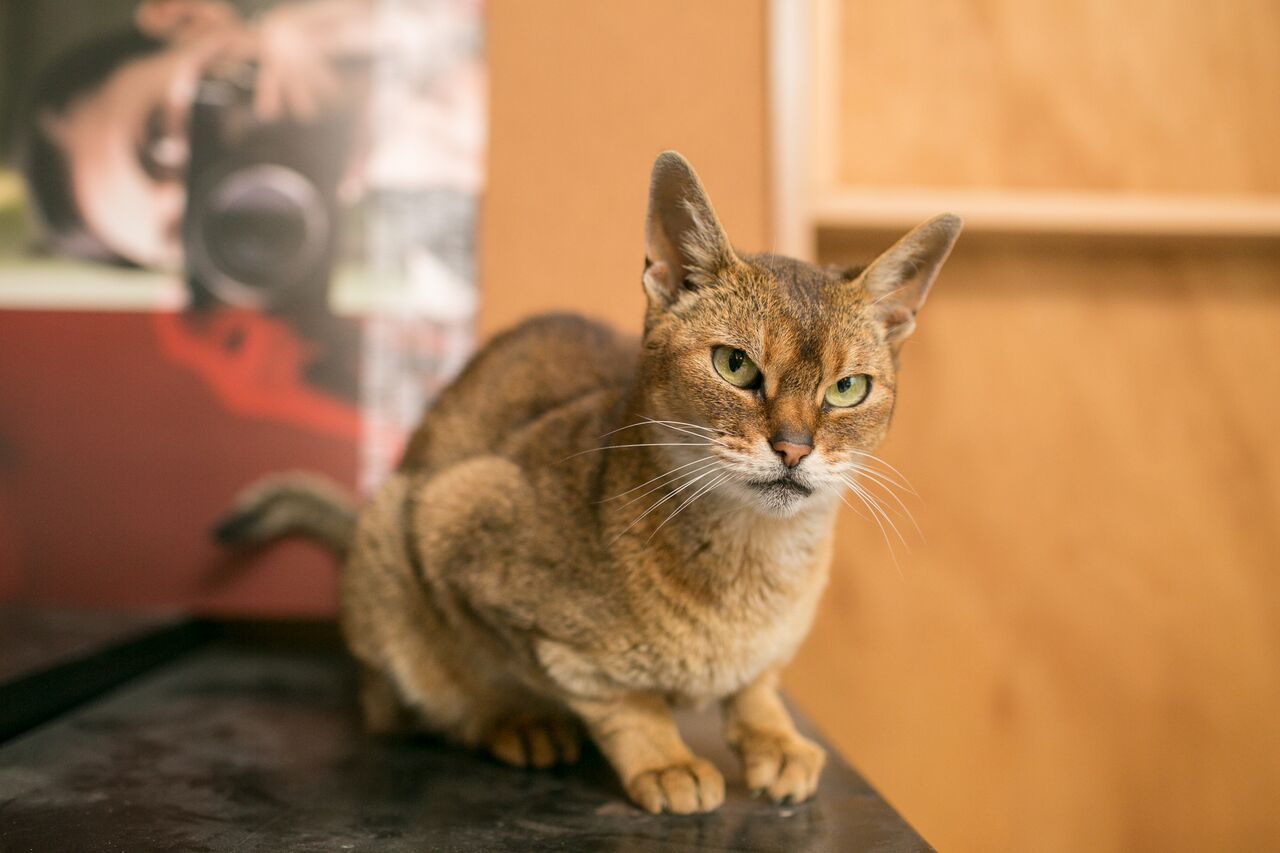 "Maps," our studio cat*, says 'thank you' to all of our subscribers and viewers. (Your support also goes to her tuna supply.)
*Actually, she's our neighbor's cat. Thanks to lots of love (and tuna), she's one of CrashPad's most frequent guests! Unless someone is allergic. Sorry Maps.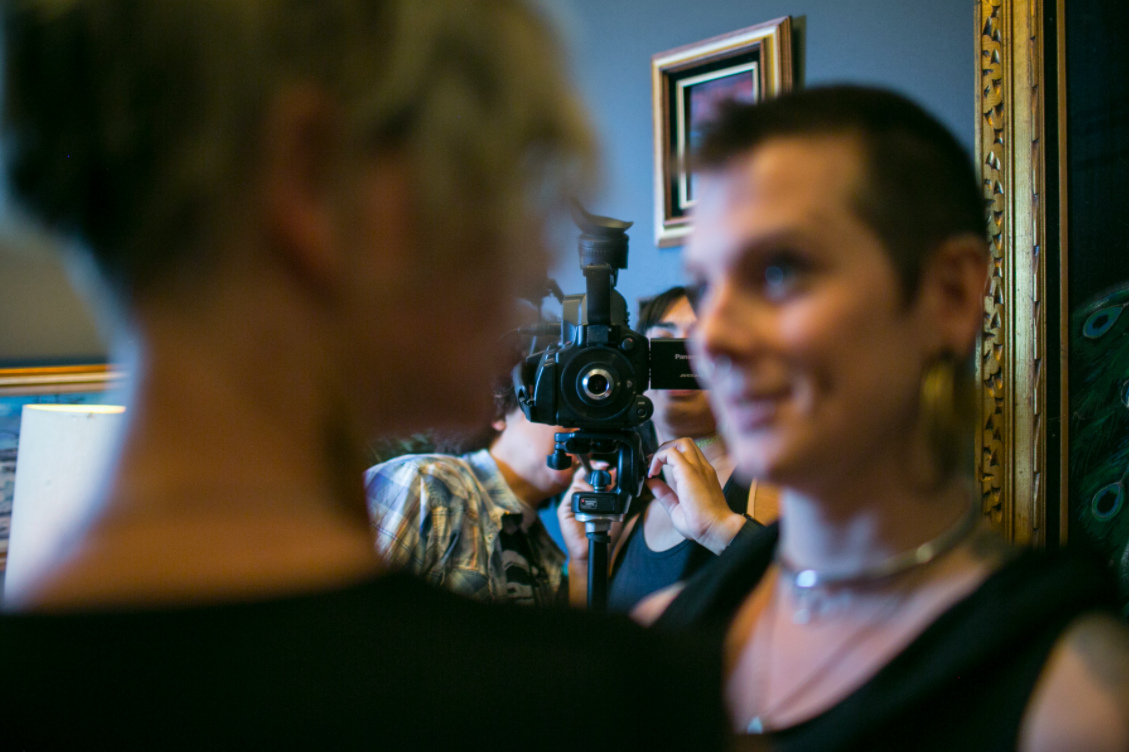 I'm not normally on this side of the camera. Here's CrashPad director Shine Louise Houston and our 2nd Camera, AjaPorn, setting up the opening shot with Julie Aurora and Alexa Braeburn.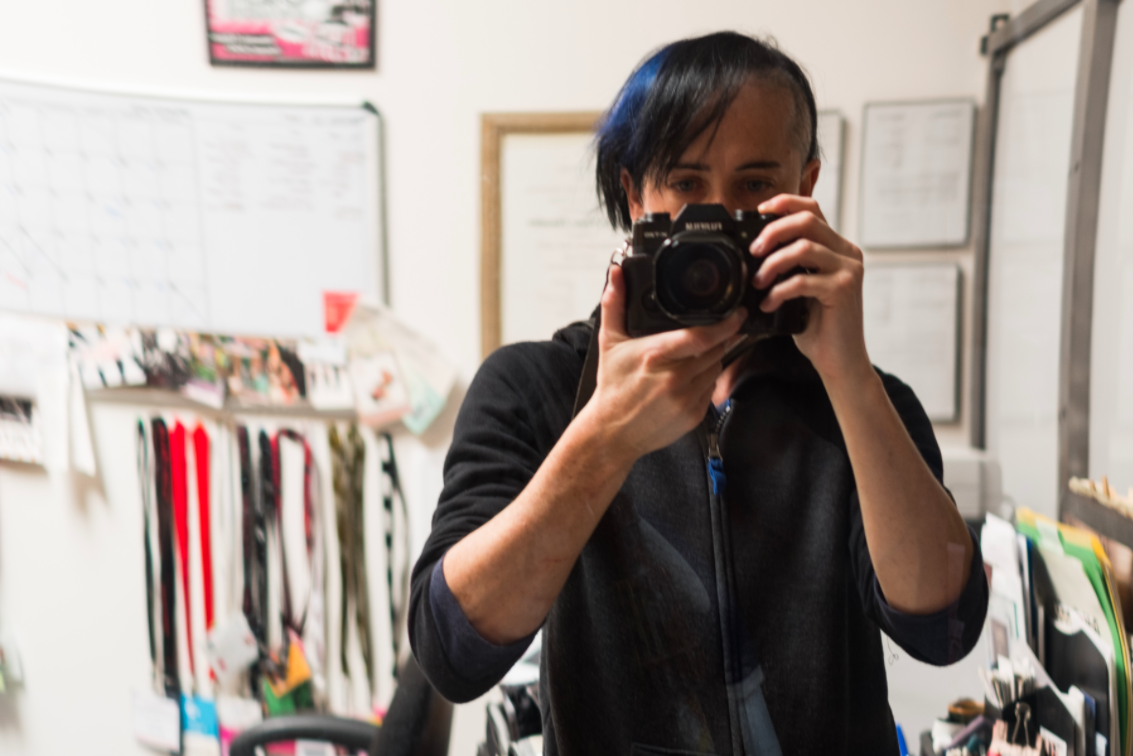 There's me! Jiz suggested that I make this post more technical — I think 'nerdy' was the word they used! For the folks out there interested in our production process… I shoot CrashPad images with a Canon 5dMk3 (I began shooting way back in the day with a Canon 20d), and alternate between the 50mm 1.4 and the 35mm1.4. I like to use prime lenses, and recommend them because the optics are often sharper than a zoom and you can get a really fast lens that will perform well in low light. Shine used to build all of her own lenses for the cameras, and while I can't match the video exactly, I do try to create images that fit with the overall look of the movies.
Our set lighting isn't super low, but I would describe it as a little 'moody', which is great because the lighting is key to creating an overall feel for both performers and viewers. Because of the lower levels though, I often shoot between 1.4 and 2.4 as my f-stop which also means nice background blur and isolation of the subjects.
We started off January 2017 with two very different but equally gorgeous shoots. I love this image of April Flores and Milcah Halili, even though it isn't technically perfect. (My focus was off on the bubble!)
The only thing better than one Daddy are two Daddies. Unkle Daddy and Mr Pink also used a clit pump in this scene which was rad — we don't see them very often on set. This image is from the beginning of the scene, in the darker side of the set but I think it really works to set the feel of this leather daddy encounter.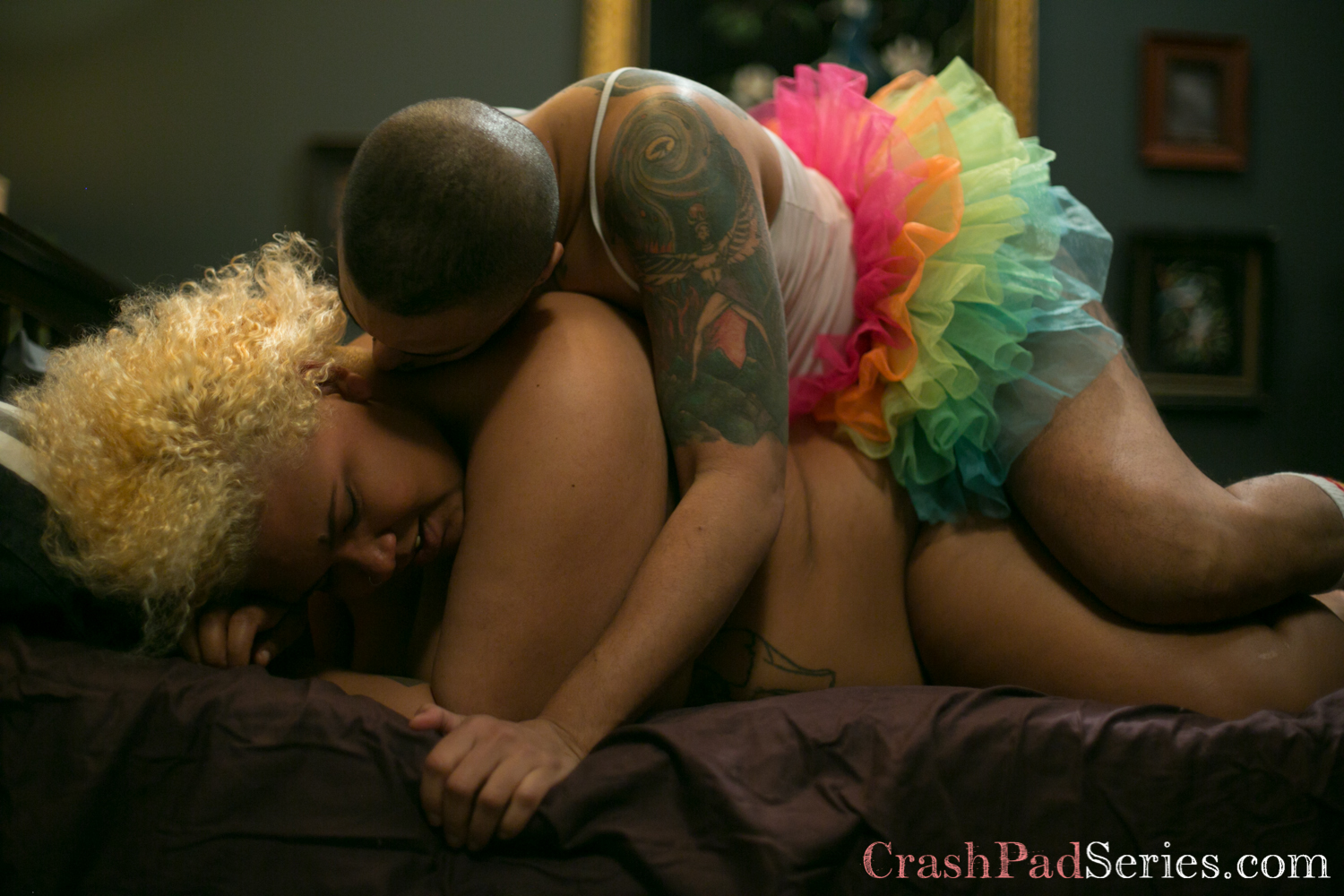 I love the overall tones and lighting in this image. This scene between Papí Coxxx and Golden Curlz was really stunning. It was February, so maybe a little romance was in order.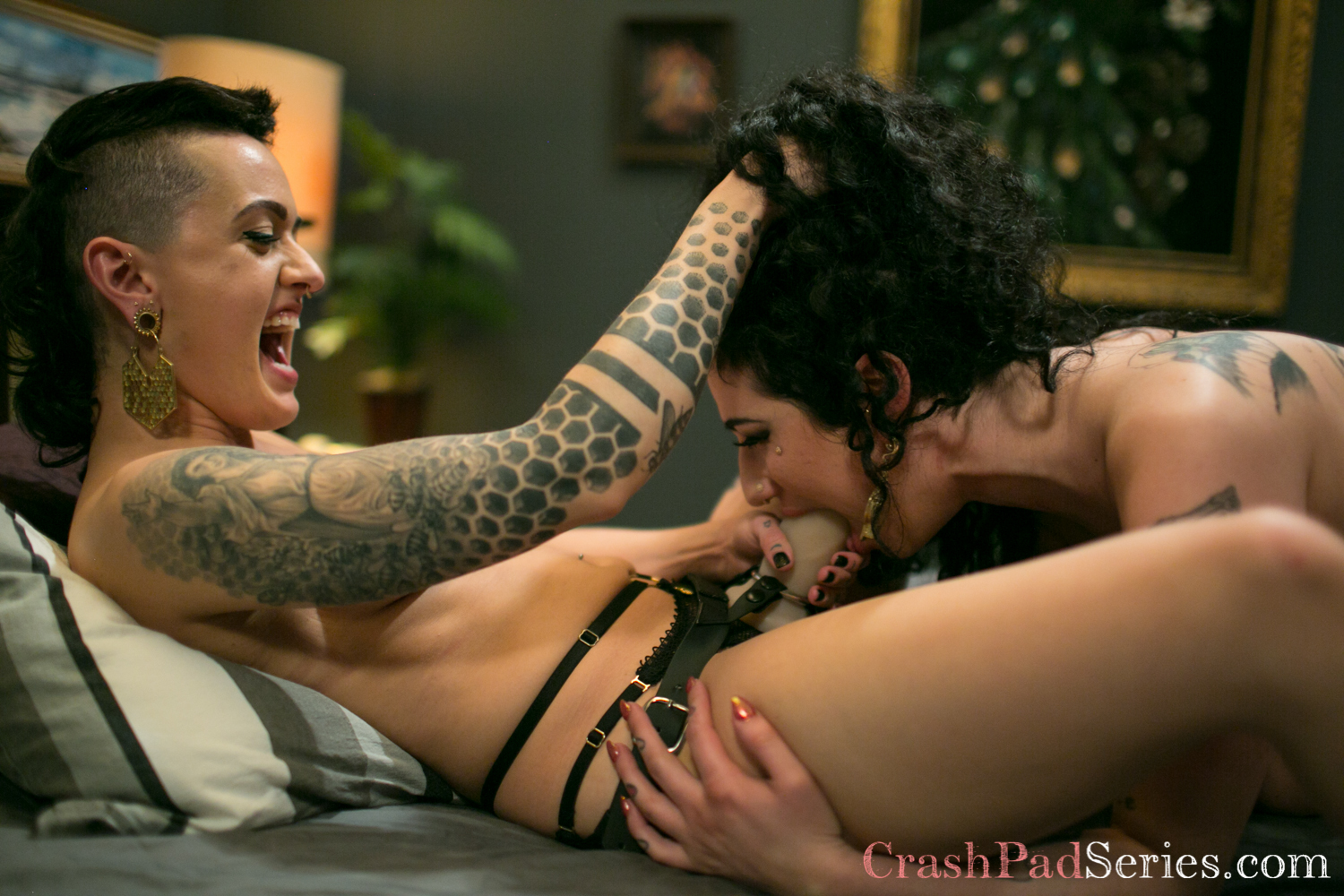 Arabelle Raphael and Devorah Dante prove there's more than one way to be romantic. <3
Sir Jameson and Justin Jones are the locker room fantasy I didn't know I had. Just go watch this one — you won't regret it.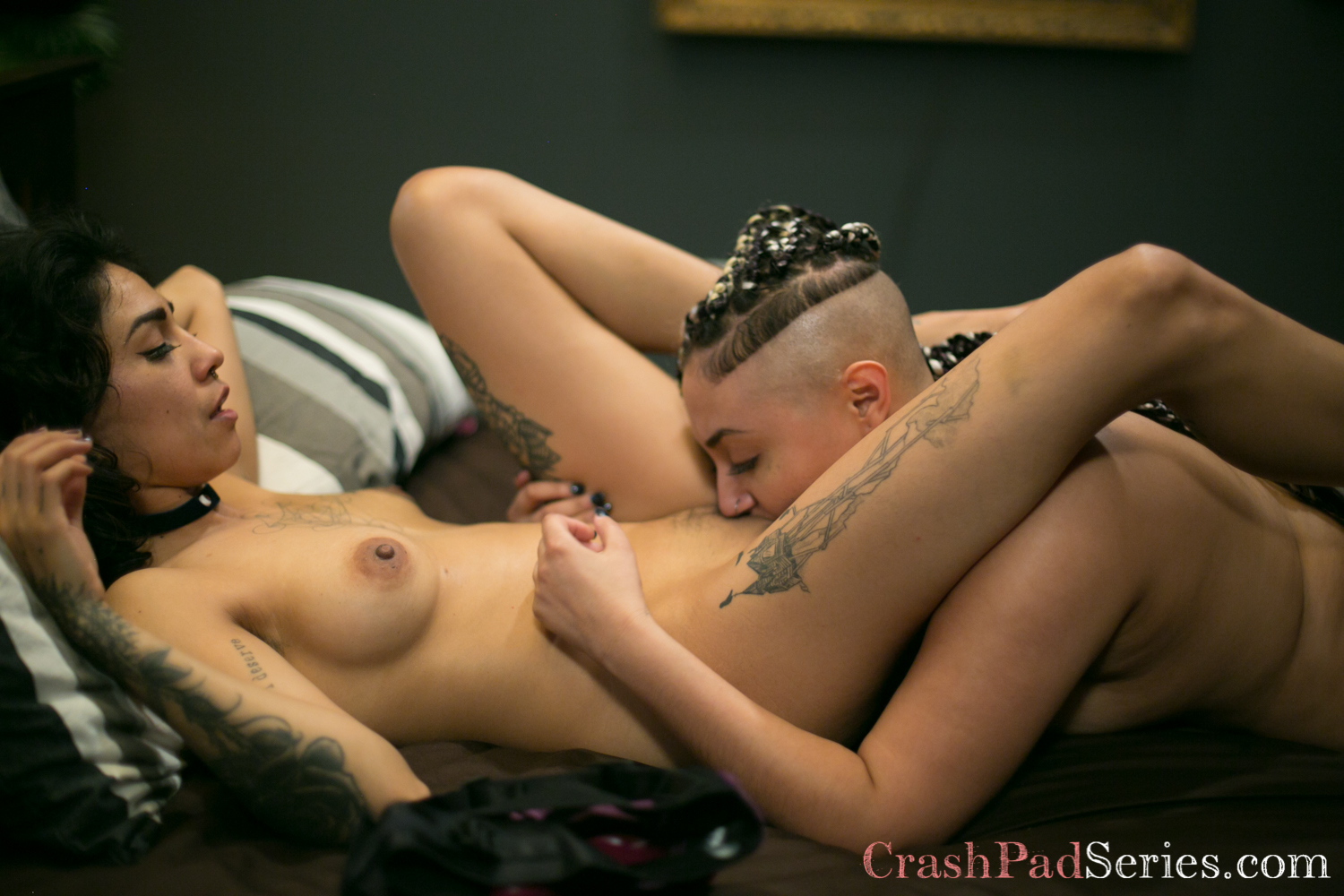 La Muxer Diosa and Mars the Prince's obvious and passionate connection brought a lot of depth to this scene.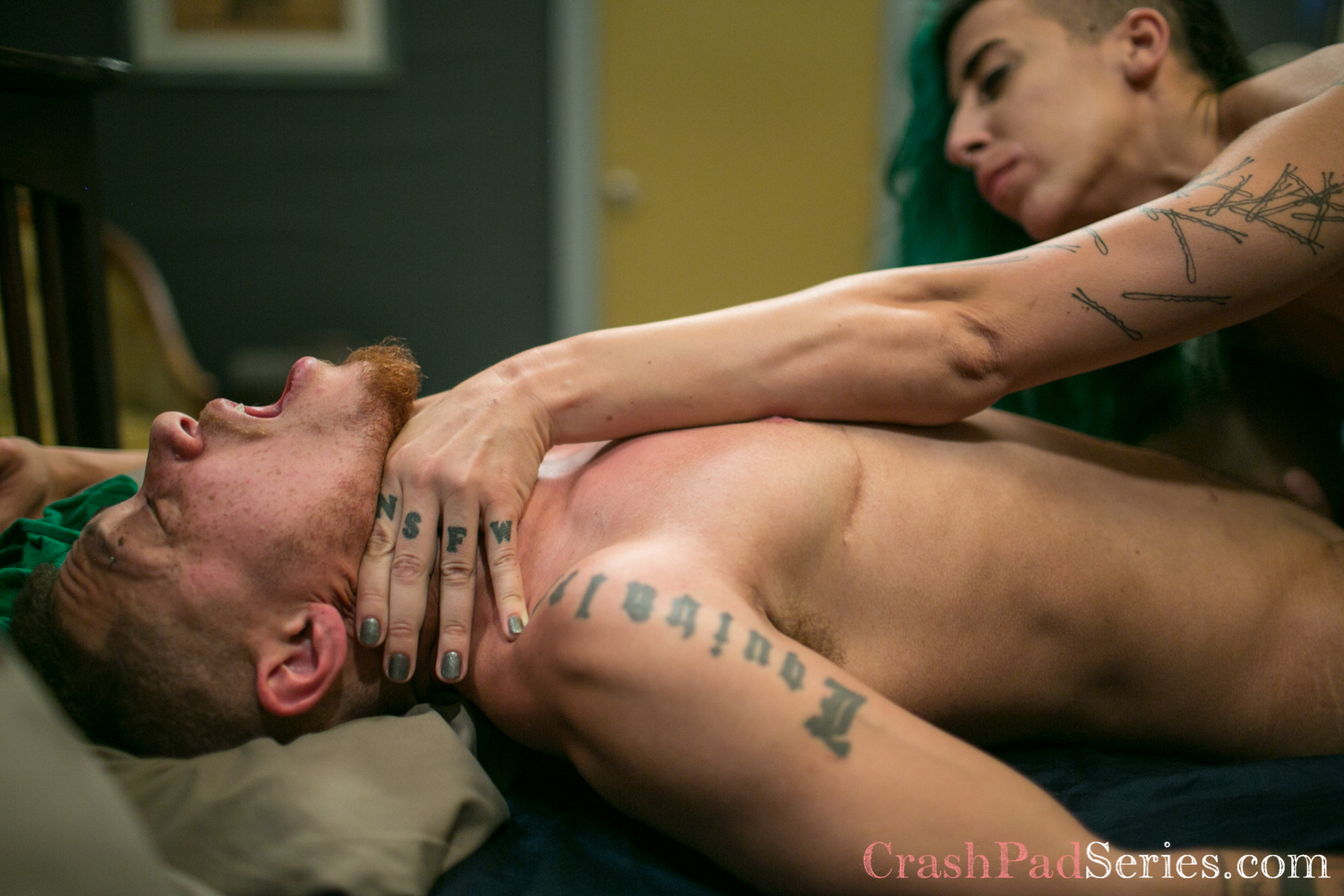 And then Andre Shakti and Dante DeMoan gave us this hot moment! (I always love a chance to shoot Andre's "NSFW" knuckle tats.)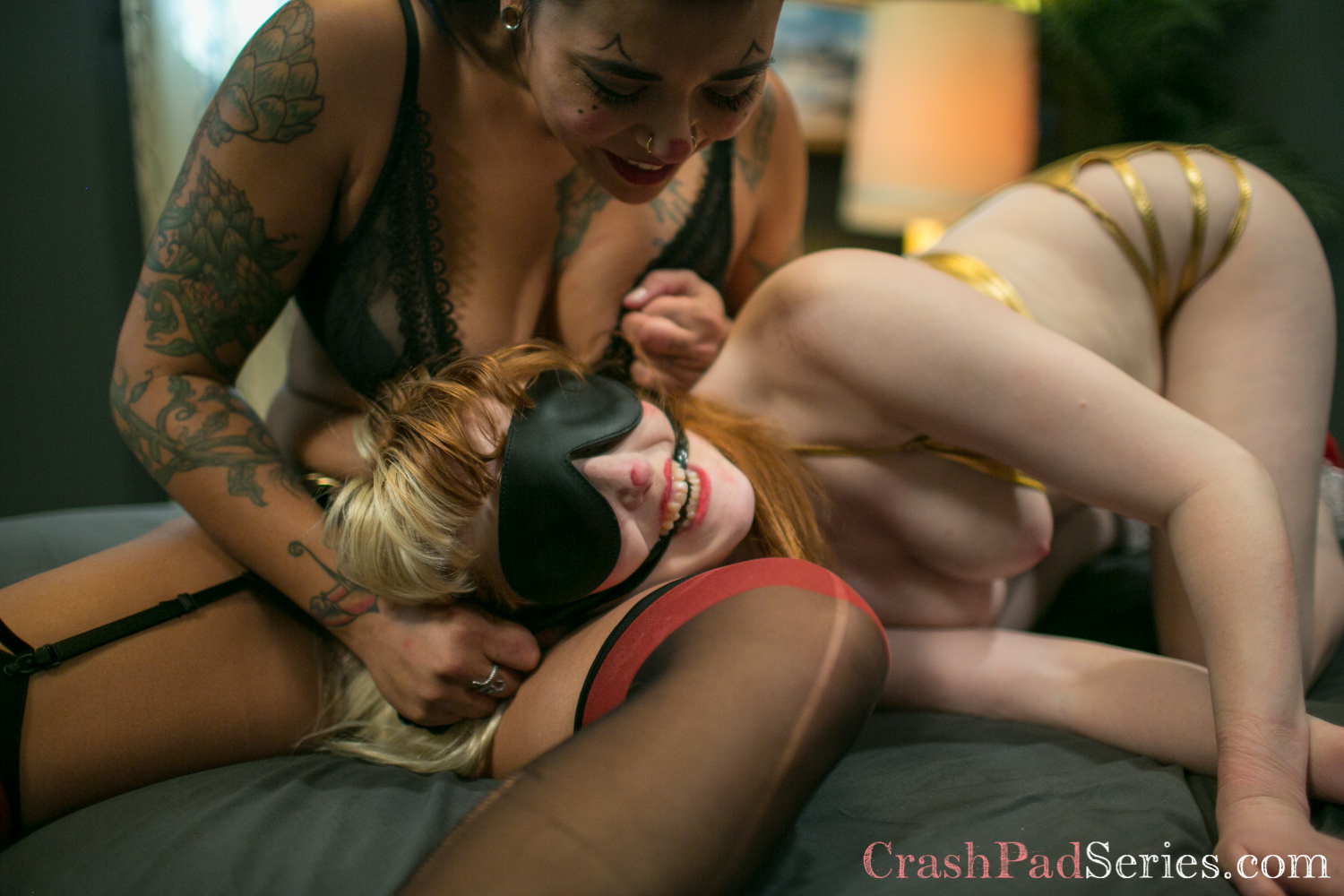 Surgeon and Maggie McMuffin take being clowns very seriously. Clearly.
Femme talon magic with Cinnamon Maxxine and Amani Luxe. I loved Cinnamon's lingerie in this one. Wardrobe is important! (At least to me.)
Speaking of wardrobe and use of color, a purple blindfold was a sweet touch on a really lovely scene starring Rain and Rose.

Ilya and Innocent Tanuki the Wise were both first-time visitors to the CrashPad, but hopefully it won't be their last. I also really like Ilya's foot position in this photo.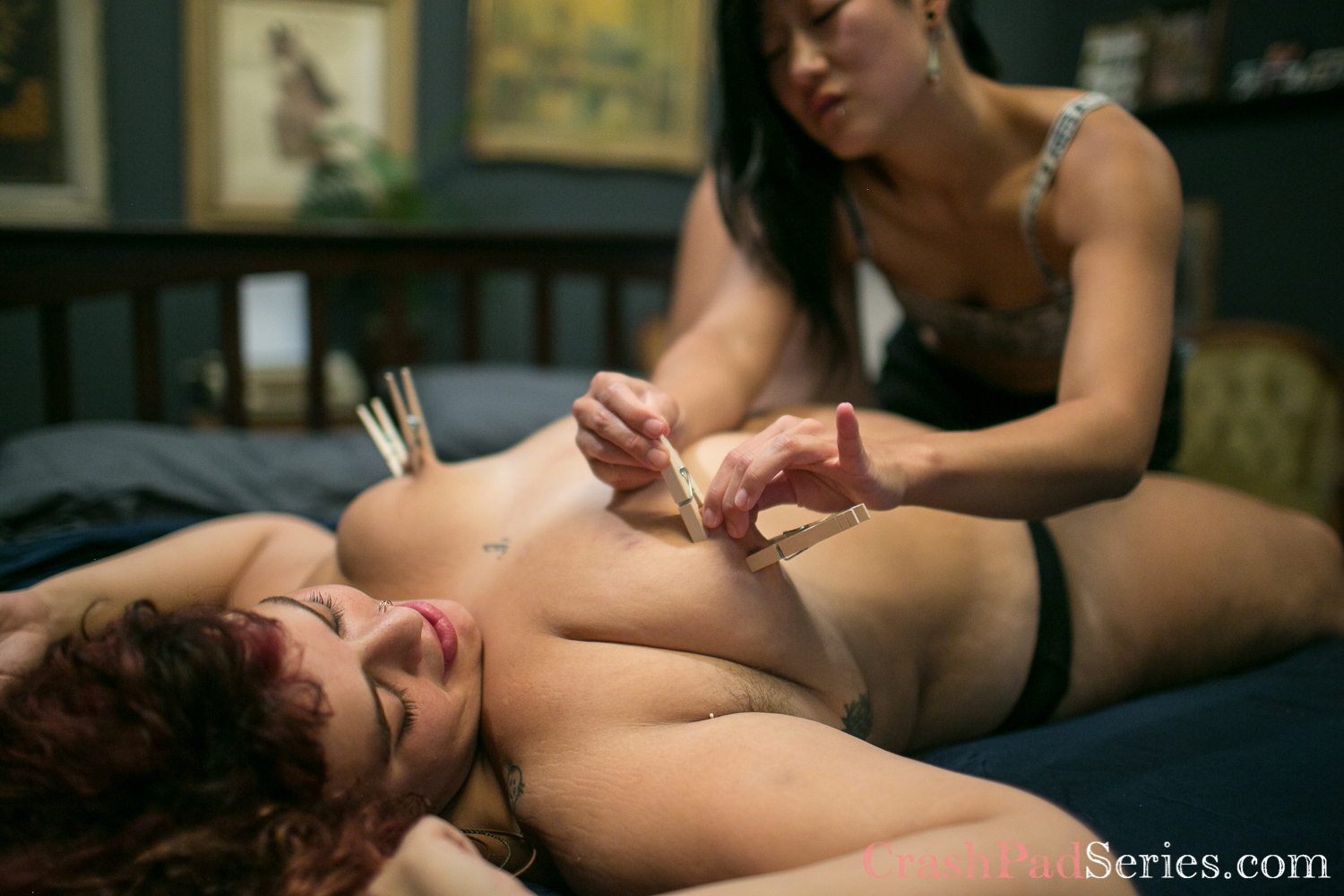 Miss Yum and Vivienne Vai opened with cupcakes and spanking. And then it got even better. While there were many adorable cupcake pics I could have chosen as my favorite, it was this clothespin image for me that really took the cake.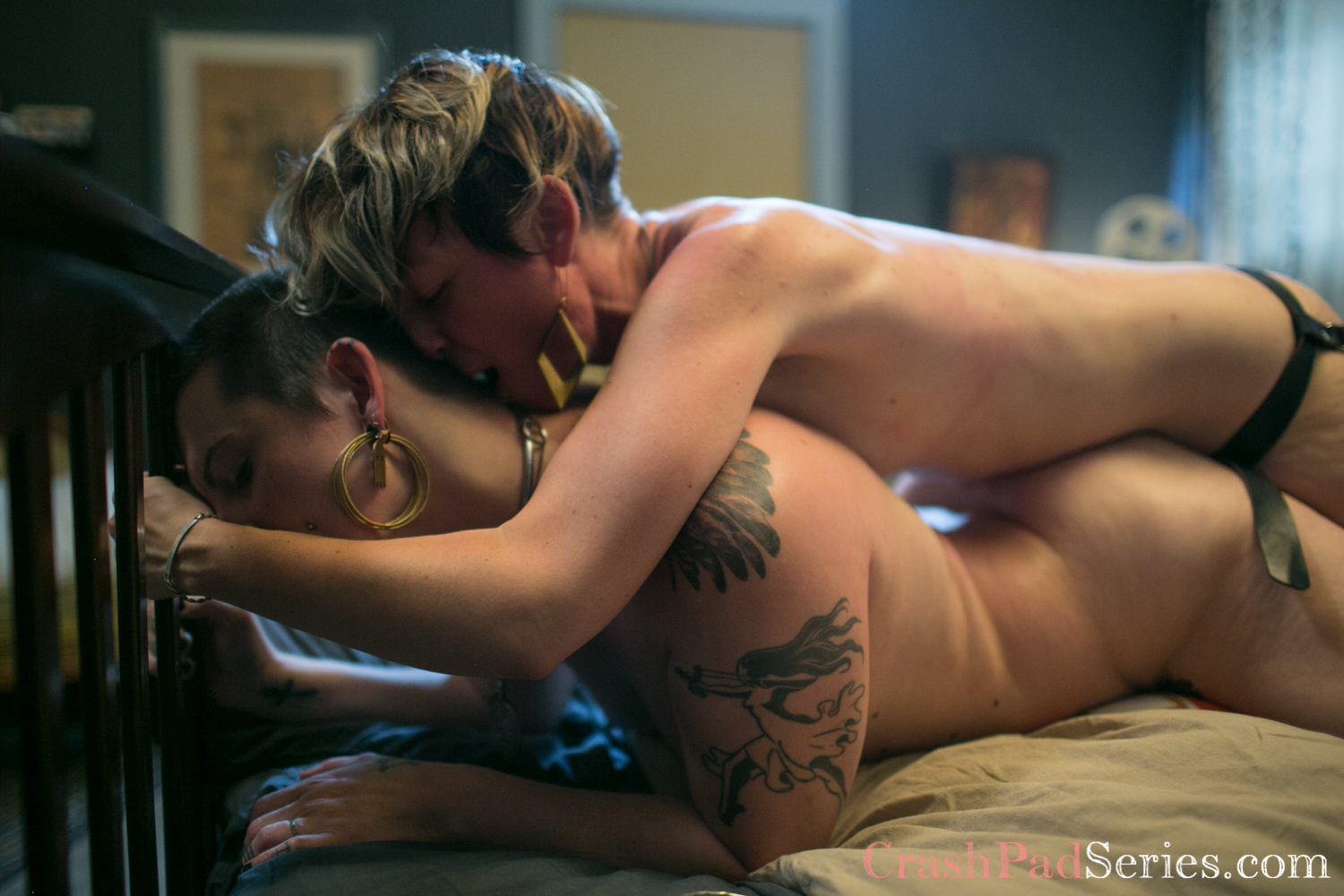 Julie Aurora and Alexa Braeburn… these two have a special connection.
Shine also changed the lighting around for this scene and I think it really worked well, that white/blue light just behind them added dimensionality to this show.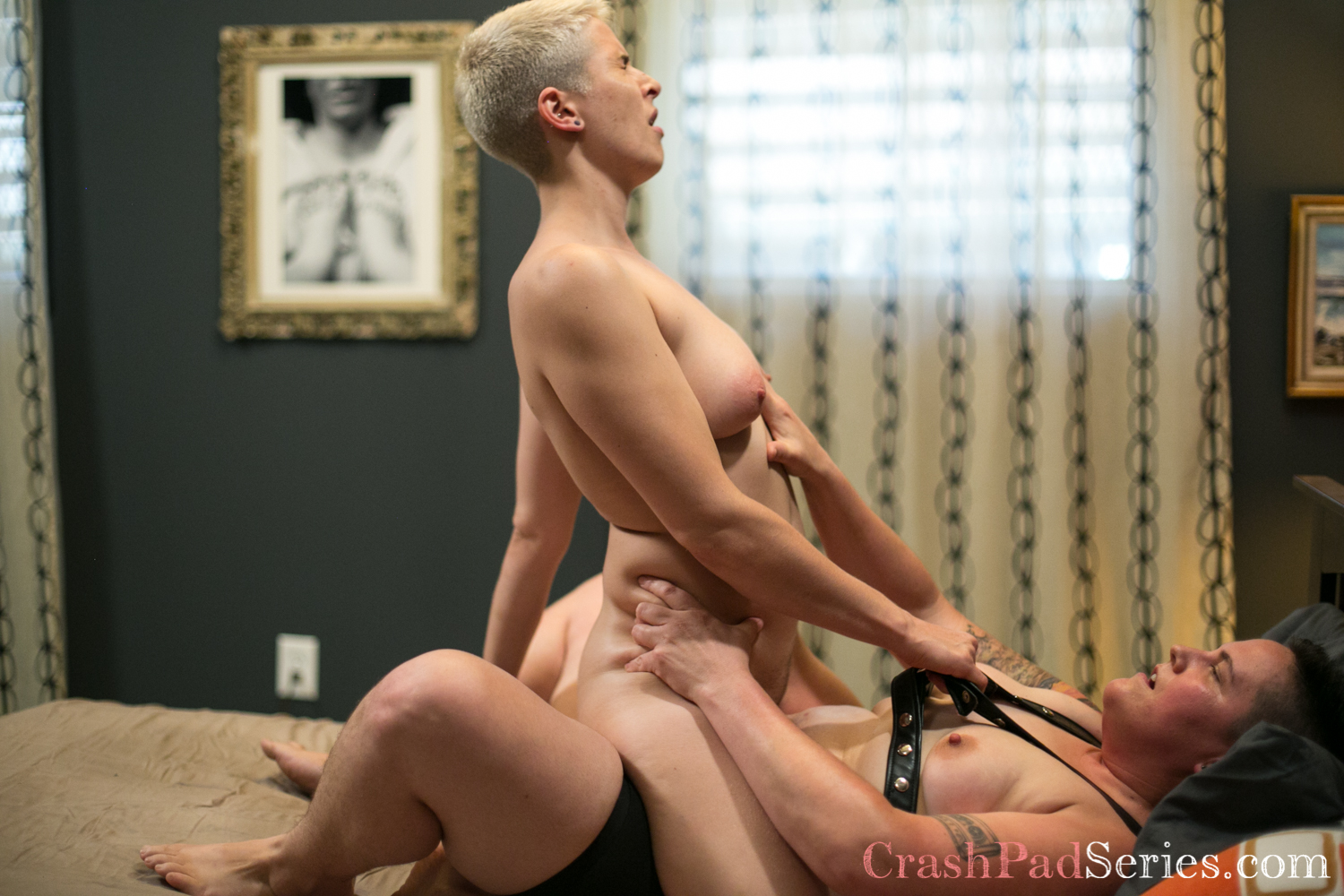 Billy Banger and Emma Slut! This pair get my "Best Porn Name of 2017" Award. Also, excellent use of that chest harness.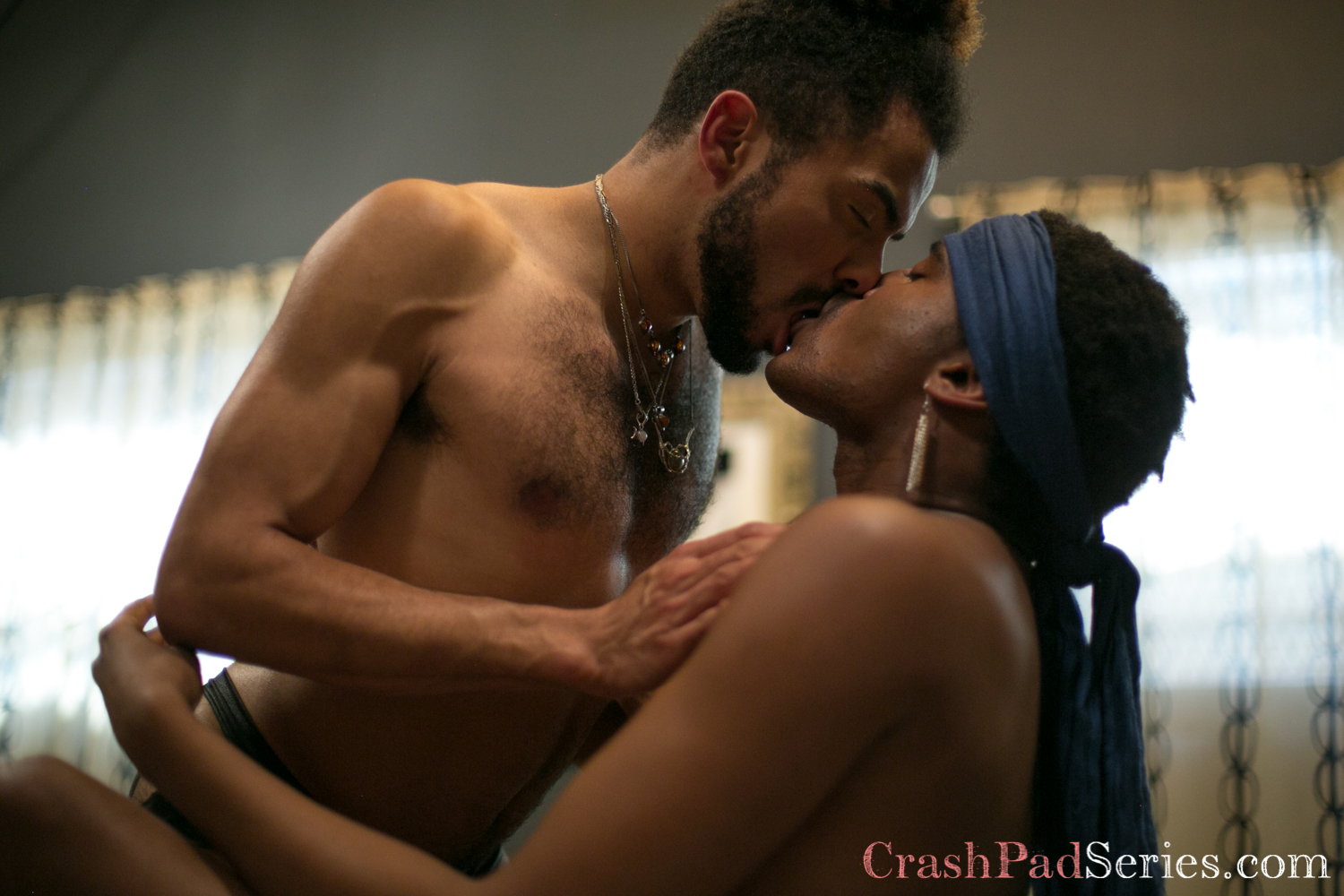 Caleb Daniels and Venus Selenite were also new to the CrashPad. They are welcome to bring their dazzling selves and energy back any time they like.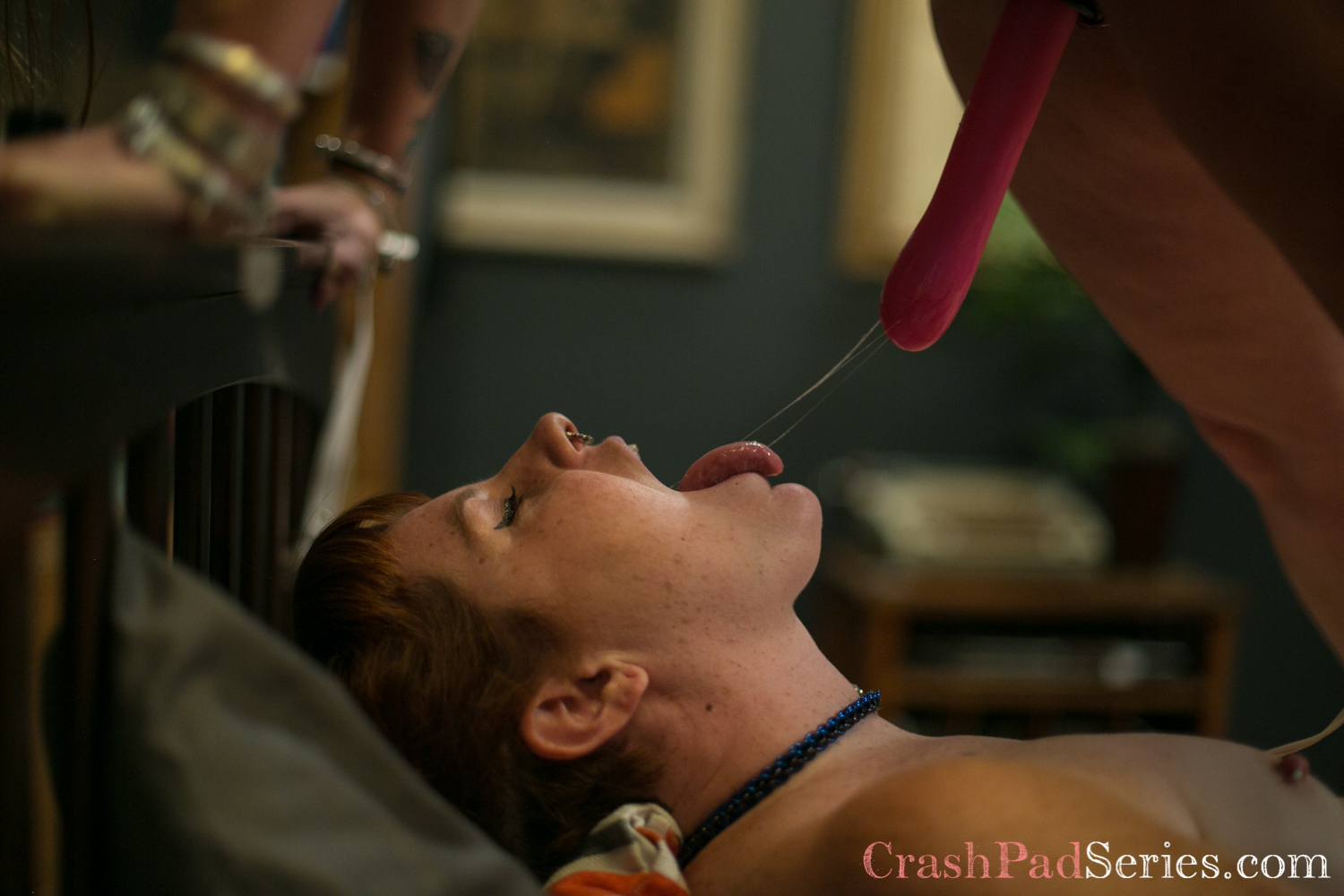 Here's Bella Rossi and Barbary Rose being sexy, smart, and hilarious. This was a fun one to shoot. (I mean, they're all really fun to shoot, honestly.)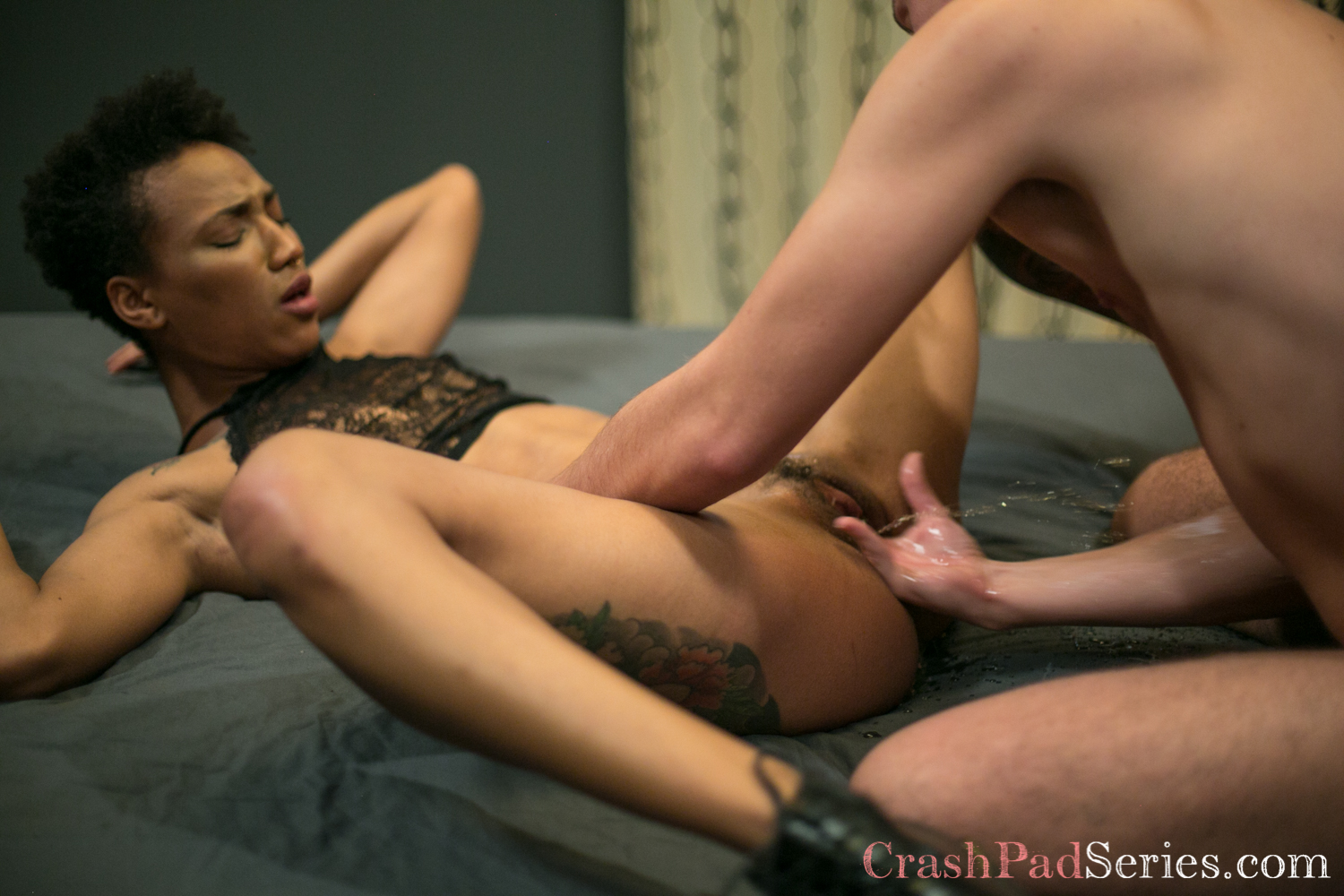 James Darling and Nikki Darling. I'm amazed it took this long to get a squirting photo into this wrap-up.
Nerdy technical note: to freeze action (such as squirting), general wisdom is to use a shutter speed of at least 1/125, but I've found that 250 is better for really fast action like this.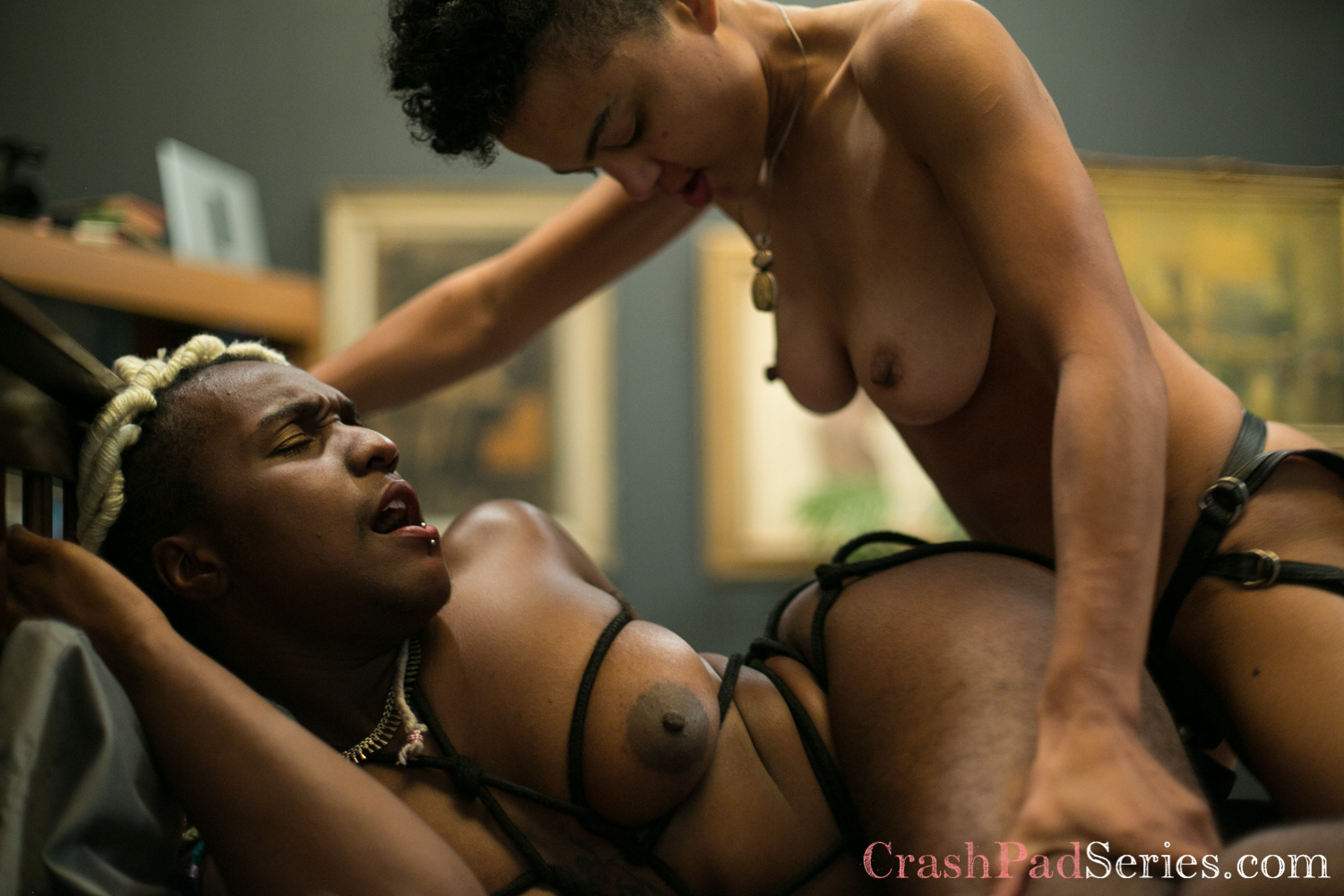 Goddess Ixchel and Ray's scene is kind of perfect. Beautiful couple, tangible connection.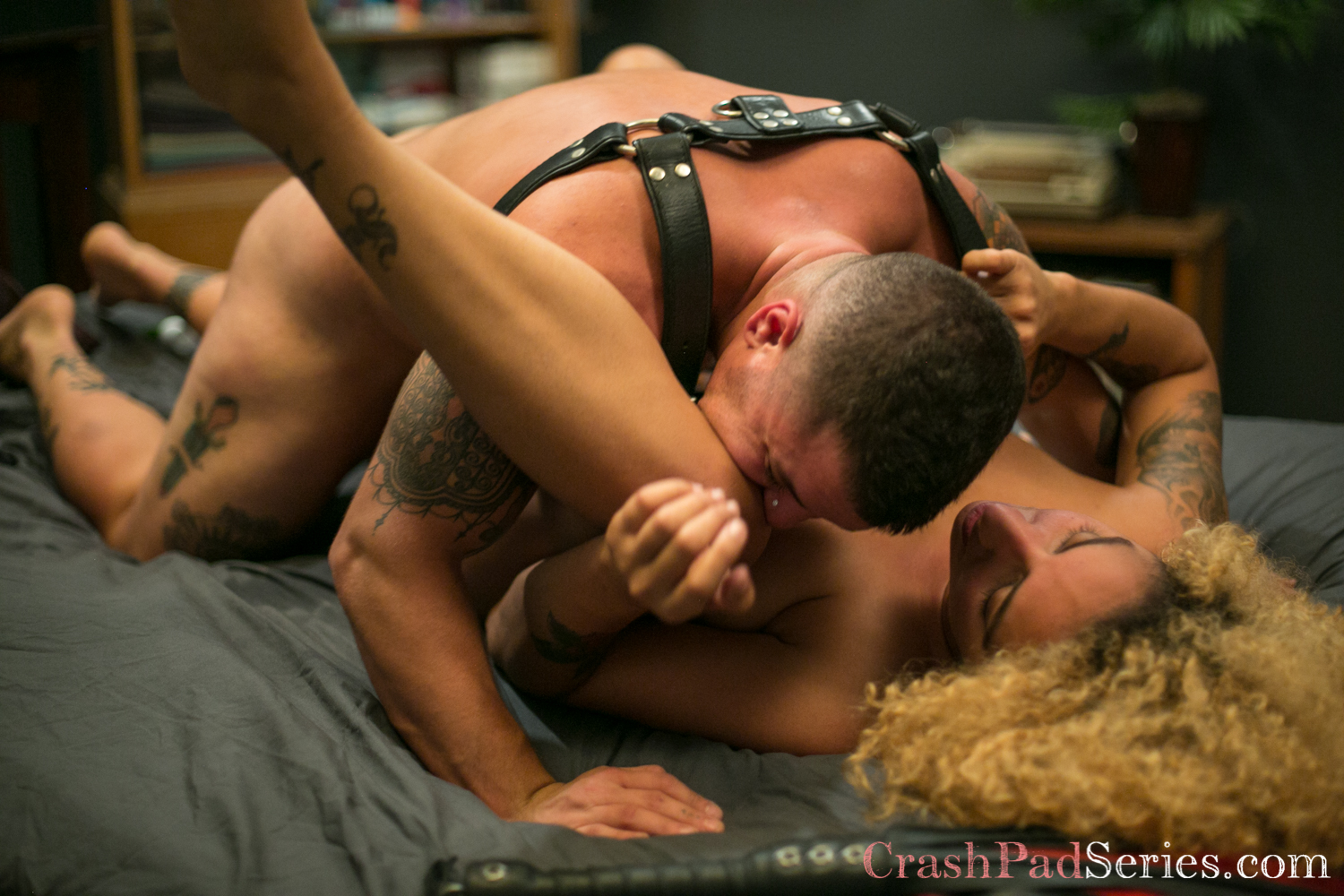 Sinful Sweetheart and Tramp's high-energy scene glistened with sweat — and a LOT of orgasms.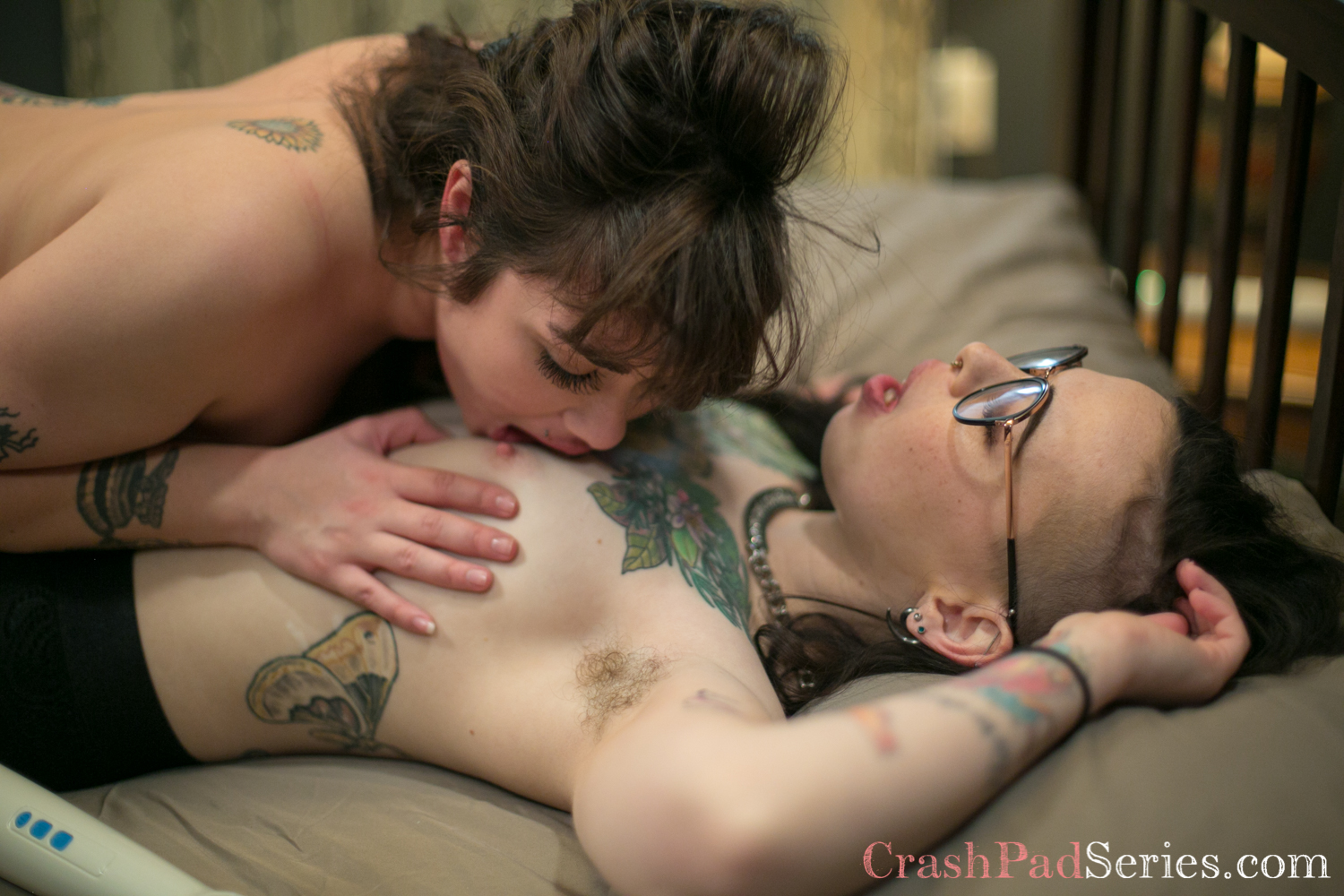 Cuties! Byron Dubois and Louise Thirteen's gentle, passionate time together was beautiful to document.
This shot is an example of why I shoot with a 50mm lens; it is both flattering and not too wide, which gives a feeling of being physically closer to the subjects.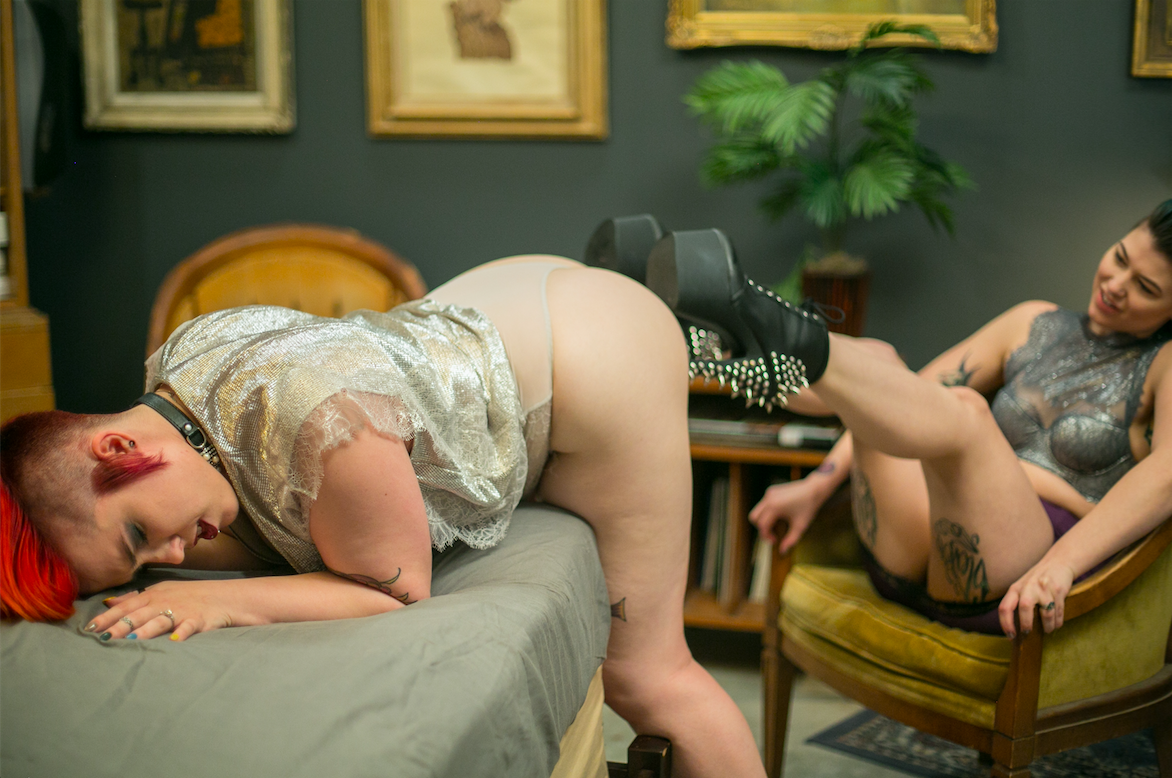 (Spoiler alert! This episode will go live in January.)
Lux Fury and Tessa Blythe were our last shoot of the year and it was a memorable one! Those shoes are amazing and Tessa's putting them to very good use.


Aaaaaand, it's a wrap!
Scorching hot year in the CrashPad, right?
Thank you for reading/peeping! If you like my work for Pink and White and want to see more, check out HerePortraits.com, my ongoing documentary portrait series of transgender, non-binary, agender folks (anyone non-cis, really), or my personal website TristanCrane.com for my wedding, portrait, and travel photography.
See you in 2018 with more episodes starring performers familiar and new. (And probably a lot more photos of the cat.)
~Tristan C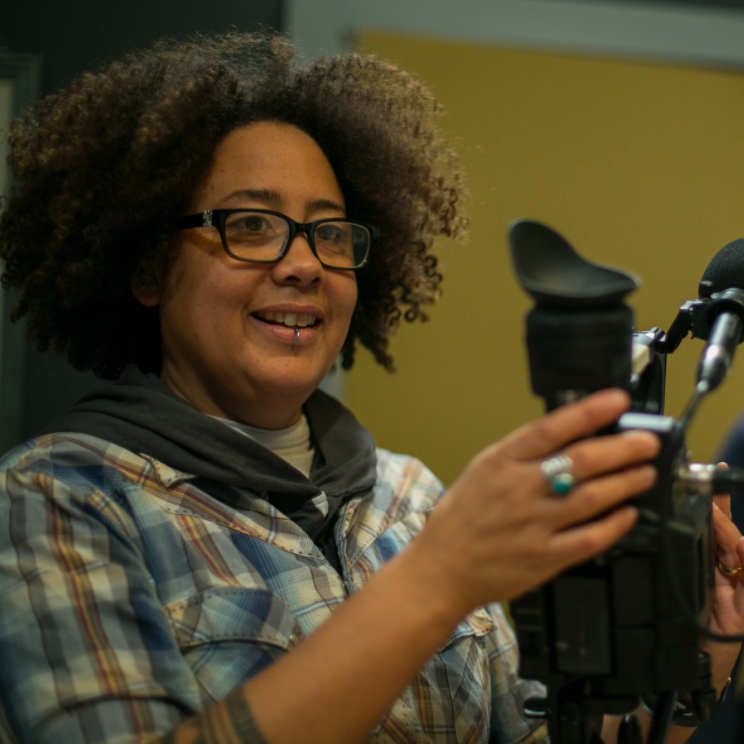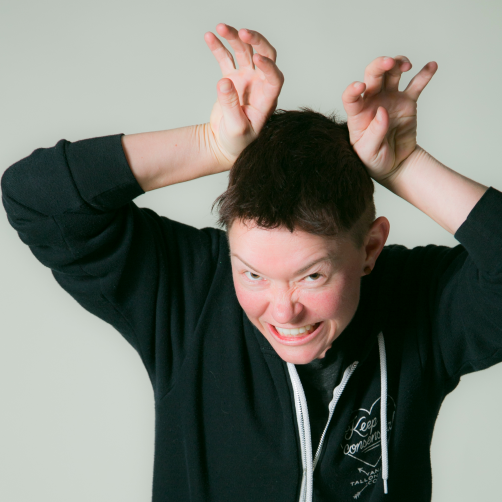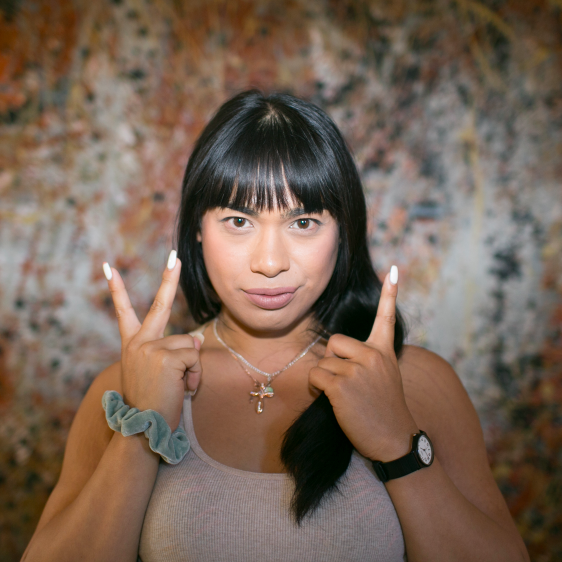 Shine, Jiz, AjaPorn… y'all are the best and I love working alongside you.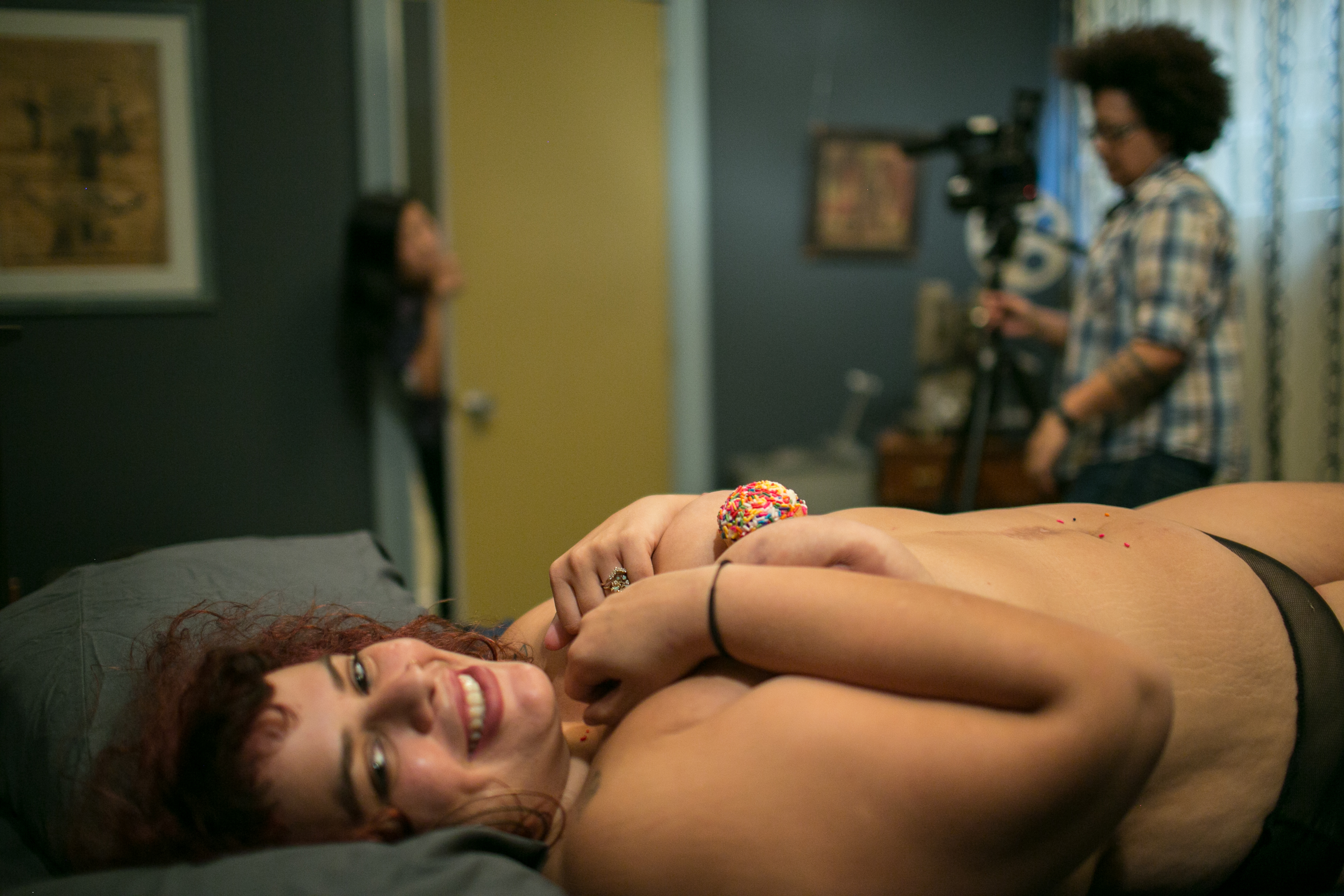 Also? CUPCAKE!