A Soft-Core CrashPad Video Guide – with viewing recommendations!
Despite what you may have heard, adult videos that are passionately soft and sweet and otherwise "vanilla" are not at all "boring." These desires — just like our performers' choices to do soft-core sex in the first place — are absolutely valid, 100% queer, and belong here within CrashPad's community, and like all of our episodes, these scenes are full of chemistry.
If you're looking for sweet, soft loving? You'll find it on CrashPadSeries.com. (You'll also find rough, raunchy role-play — sometimes in the same scene!) CrashPad showcases a range of sexualities and since we try not to prescribe what performers do on camera, you'll often see safer sex barriers, different sex acts, and role-play. If you see something in a scene, it's because performers wanted to do it and our crew consented to film it. No two scenes are exactly alike because what counts as "sex" is as varied as the performers themselves.
Viewers may not know what they're gonna see in each scene, which can mean discovering something new! While we find this unpredictability positively thrilling, we understand that sometimes people have specific things they want to either see — or avoid. We try to balance curating content for viewers' consent with not policing or wrongly assigning performers' bodies and desires. Defining sex can be slippery!


And we offer sensitive viewers ways to explore CrashPad with care. For example, episodes that explore "consensual non-consent" are prefaced with a Content Notice. In the Episodes directory, icons can be toggled "off" to exclude videos featuring certain sex acts. Most pages describe the mood and main activities. And for those moments when you just want to sit back and watch some smut, we're happy to provide curated guides to scenes that'll meet your needs. Recently, we've seen a growing number of requests for a playlist of our "soft" queer scenes. Whether it's from sexual assault survivors (thank you Clit List) and those who experience vaginismus and want to avoid penetration, folks with body dysmorphia, or people who just love softer sex in their porn, these requests have challenged us to create a guide we hope will help!
Ready for the good stuff? Here are a few scenes we like to recommended. (Ordered from least to most explicit, though please note: as an adult site, most links may display explicit imagery.)


---
Clothed Sex
Many CrashPad performers choose to keep tops or pants on. In these scenes, performers have sex with their clothes on and there is no nudity.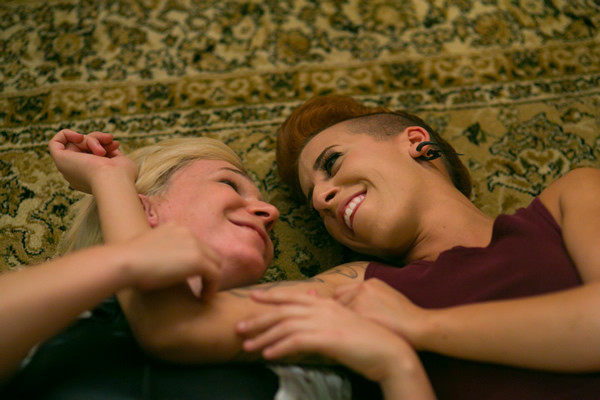 Put the Needle on the Record (A CrashPad Spin-off)
Remember that one person from high school… so hot EVERYONE wanted to fuck them, but no one dare try? For these four friends that person was Samantha, and as they get high and spin vinyl, one of them claims to remember her just a bit better than the others. Terry lifts the narrative needle, but are they just looking to repeat a past track, or get into a new groove?


---
External, non-penetrative sex
These scenes don't involve anal or vaginal penetration. Sex is so much more!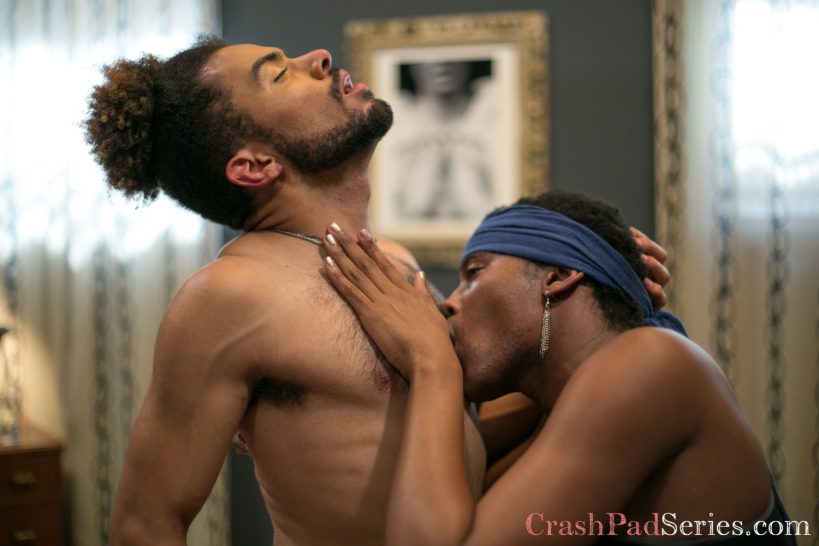 CrashPad 248: Caleb Daniels & Venus Selenite (read #SexEdPornReviews)
"Caleb Daniels and Venus Selenite grace the Crash Pad with their sweet, sweaty sexuality. Caleb pleasures Venus with soft strokes and a Magic Wand, and ve returns the favor with vir mouth and tongue. What a divine display of pleasure without penetration." – Keymaster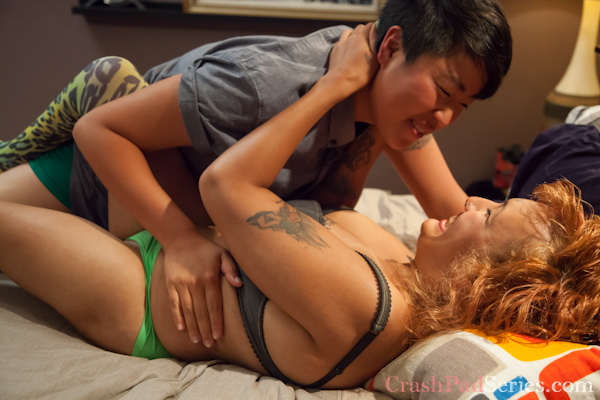 CrashPad 133: J-Bird & Lyric Seal
"Lyric and J-Bird meet up at the CrashPad before heading over to a party. Phhffff… like that's gonna happen! No one just 'meets' at the CrashPad, and it's soon evident everyone has another plan for the evening. One that involves a suspiciously convenient vibrator." – Keymaster


---
Slow Sex and Juicy Build-ups
Sensually seeking: long massages and slow exploration.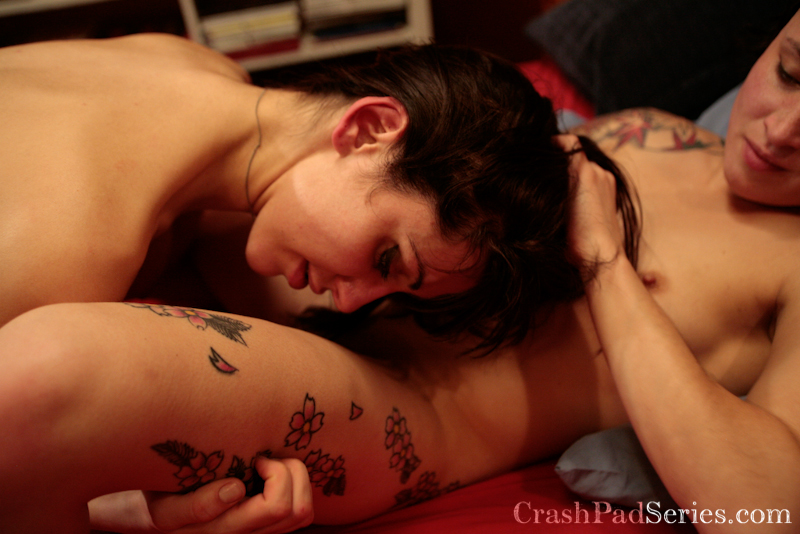 CrashPad 41: Donna Dolore & Syd Blakovich
"When these two walked in the door, I didn't know what to expect other than getting some sound complaints from the neighbors. Well, I was down right shocked (in that good electro-bondage kinda way) to watch what transpired next. Definitely defying expectations, Donna and Syd definitely do something out of the ordinary. Sweet, sensual, and absolutely sexy, the secret sex lives of pervs just got a little more complex." -Keymaster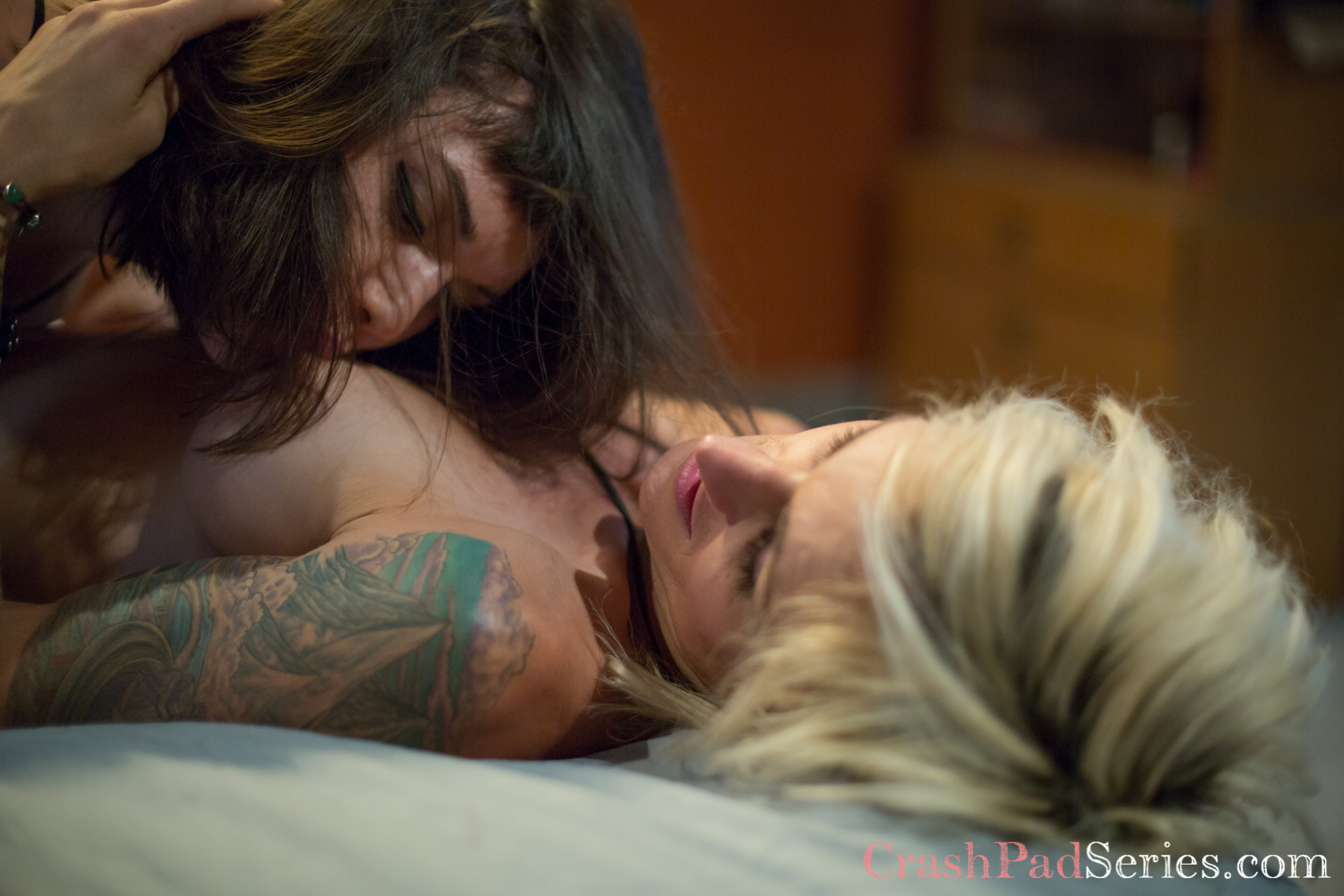 CrashPad 204: Paris Lincoln & Sami Price
"They say Paris is for lovers, and I think Sami Price would agree as she throws her arms around Paris Lincoln. Paris is also for fucking, and coming, and all the other delightful things that lovers do. Hm… where's the number for my travel agent?" – Keymaster


---
Mutual Masturbation
These episodes prominently feature performers enjoying simultaneous self-pleasure.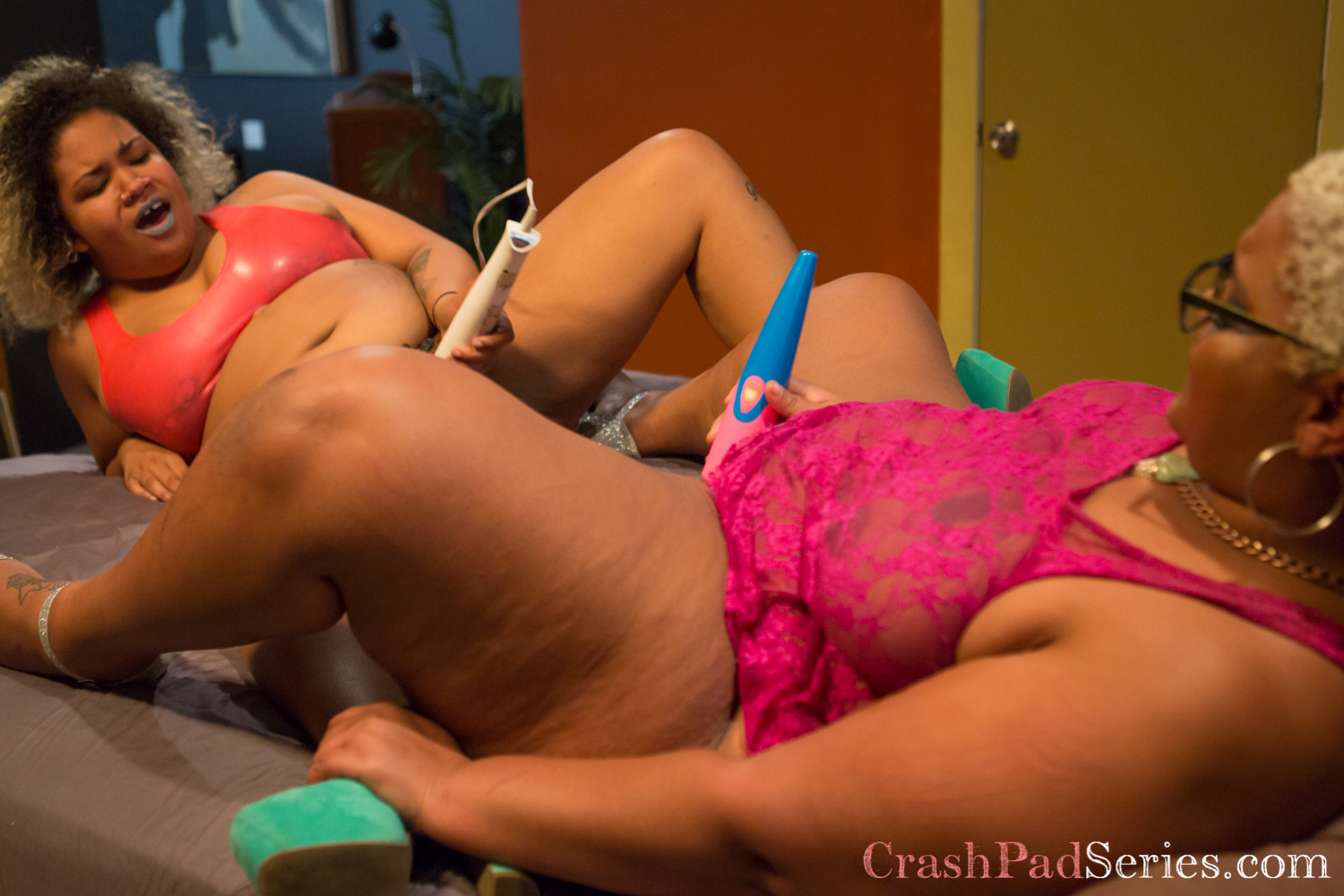 CrashPad 206: Cinnamon Maxxine & Golden Curlz
"Welcome to 2016! We may not have flying cars and world peace yet, but we DO have magic wands AND we get to watch Cinnamon Maxxine fuck Golden Curlz! Jeweled butt plugs, golden strapon blowjobs, and mutual orgasms… what a wonderful time to be alive!" – Keymaster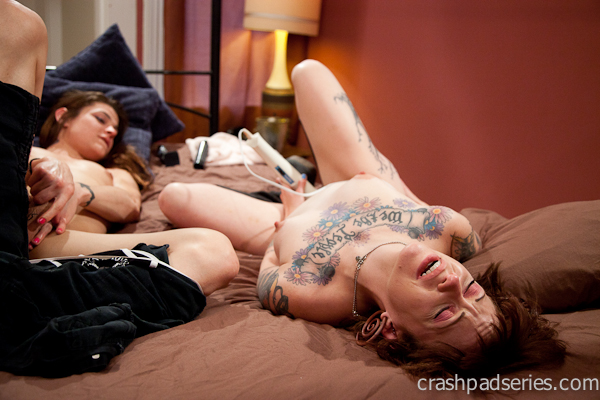 CrashPad 101: Kimberly Kills & Sparky Sin Claire
"After all the excitement we've had recently, it was nice to see some calm, relaxing action in the Pad. Kimberly Kills and Sparky Sin Claire enjoy one another leisurely and liberally, as Kimberly fingers and licks Sparky's ass. It all leads up to a massive orgasm that's anything but calm – Sparky knocked out one of my cameras!" -Keymaster


---
Sensual Kink
These scenes show gentle power-exchange, and sensation play with items like blindfolds, feather ticklers, warm candle wax, and the occasional light spanking or comfy restraint.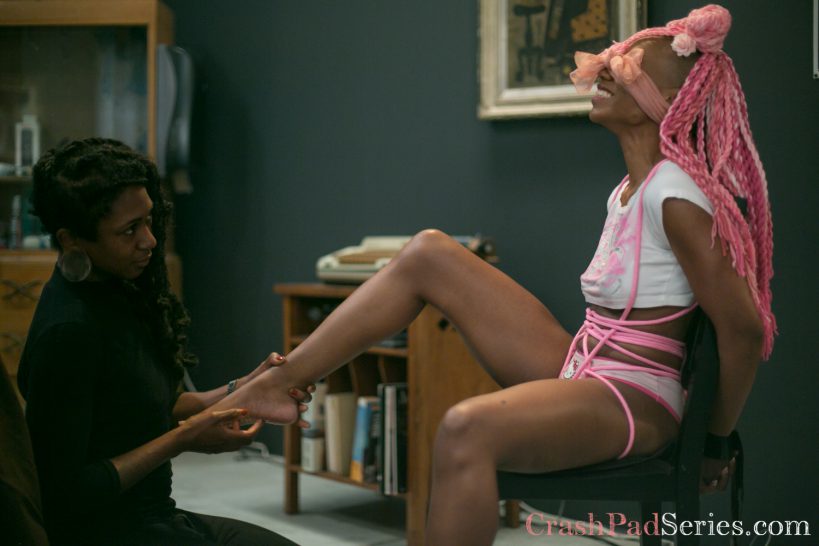 CrashPad 219: Chocolate Chip & Eros LaFemme (read #SexEdPornReviews)
"Eros LaFemme is so cute, like a Pink & White Pokémon. You don't need a pokéballs to catch them though – Chocolate Chip knows pink rope and a blindfold work just as well, combined with hard spanking and lots of tickle-torture. It's super-effective! " – Keymaster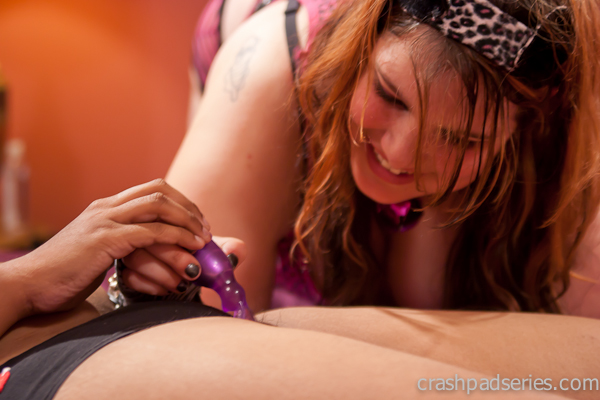 CrashPad 104: Kitty Stryker & Mendhi Henna
"Oh, kitty cats. Don't you just hate it when you're trying to do something and they just won't leave you alone and keep rubbing up against you and demanding attention? And when you won't give it to them, they cuff you to the bed, blindfold you, tease you with a feather toy and make you cum with a vibrator? Well, maybe that last part isn't so bad, when the cat in question is Kitty Stryker. In fact, she's such a good little pet Mendhi Henna sees fit to reward her with a treat." -Keymaster


---
Hot sex, without the bells and whistles
For those who want hardcore action but are not so into the look of fisting or BDSM toys.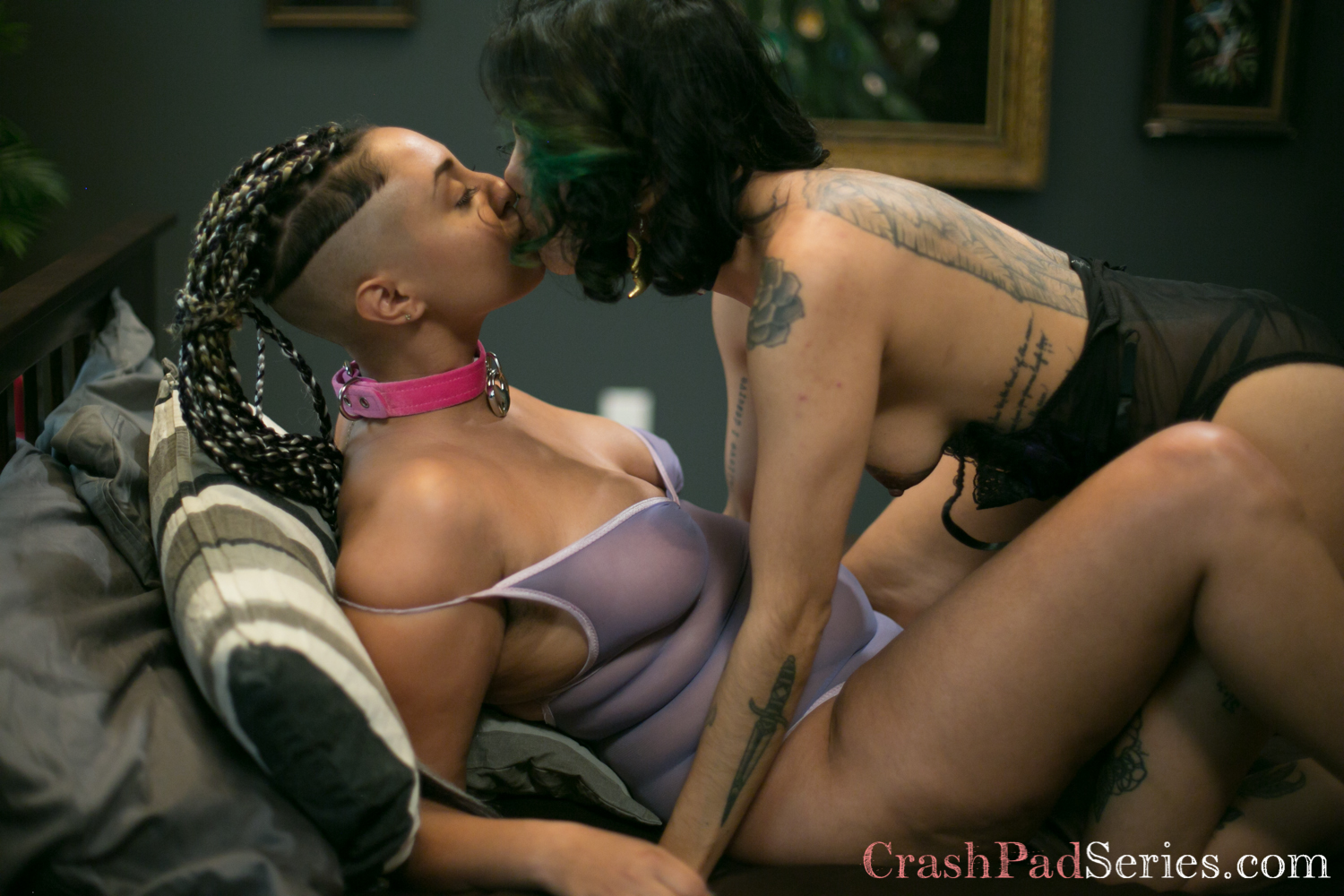 CrashPad 238: La Muxer Diosa & Mars the Prince (read #SexEdPornReviews)
"La Muxer Diosa's royal worshipper Mars the Prince knows how to please their Goddess. After offering up their mouth in service, Mars climbs atop Diosa's strap on to achieve heavenly pleasure. La Muxer Diosa is a kind and loving goddess, giving as they receive… I'm a convert. – Keymaster"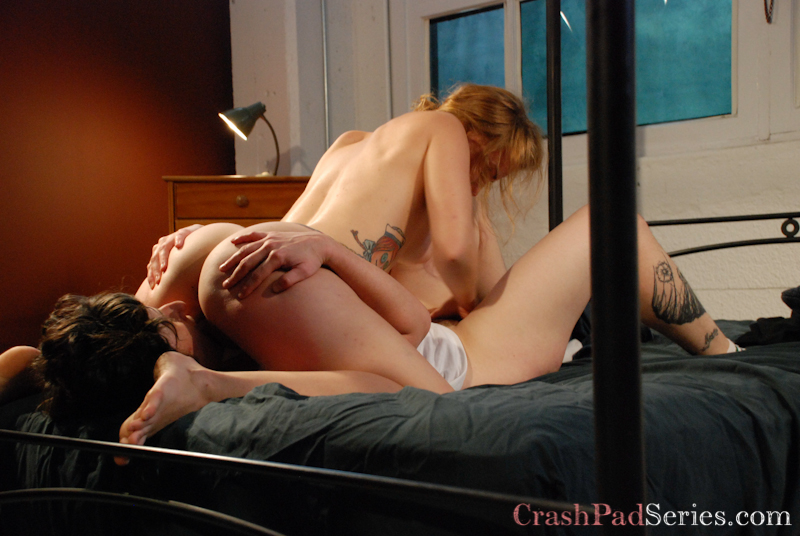 CrashPad 71: Asteroid & Peyton
"Asteroid and Peyton crash into each other in delightful ways, spanking, fucking, and slapping in turns. Pop quiz! What's the difference between a meteor and an Asteroid? One's entered Earth's atmosphere, while the other is out of this world." -Keymaster.


---
Browse Our PlayList, or make your own!
To browse all of these — including solos and three-ways! — scroll through our Vanilla, Sensual, and Soft-core Sex Playlist or create your own. Enlist a friend or lover with a very special task to create a custom playlist for you, with all the things you love — and minus the things you don't. We know that as long as sex is discussed with respect for yourself and others, it's okay to be honest about what content you want to enjoy. And we truly hope you do enjoy!
This is by no means a complete selection of videos. Read each episode description to get a better sense of the scene, or start your exploration by watching an episode's Behind the Scenes video first so you can learn more about what you're about to watch. You can even contact us directly to ask for specific recommendations. If you're only into watching one episode or are not sure you'd like a full membership, many of these episodes (Currently 1-200) are available CrashPad Series 'a la carte' to rent individually through Pink and White Productions' video-on-demand hub, PinkLabel.tv.
As always, if there is something you've been searching for, please contact us for help. We're here to bring hot queer sex — of all kinds — to those who like to watch!