It's not the length of the nail, it's the motion of the ocean… or, something like that.
If you've ever heard someone criticize mainstream lesbian or 'girl-on-girl' porn, you may have seen complaints of long, fake fingernails. The implication being that long nails are proof someone is only 'gay for pay' and doesn't really enjoy or identify with queer sexuality. As if you can tell if someone is gay by the length of their hair or the swish in their step.
We want to put this stereotype to bed.
While it may be true that long nails can require some care and know-how, and that many porn performers may find it handy to keep them short, without a doubt, queers can and sometimes do in fact have long nails and they can still get down, whether in the bedroom or the queer porn set. We know, because we've filmed it!
Here's five long-finger-nailed CrashPad episodes featuring talented talons — and some antidotes by long-nailed givers and receivers about how to fuck with fingernails. (TL;DR: Consciously, with no reason to shame or discredit someone's sexual identity!)
Note: You're on an adult site, so this post is accompanied by beautifully NSFW pics of digital sex in all its glory — whether gloved or not — just the way the performers wanted to do it. Scroll down for their thoughts, and more. 
---
"I am so happy this topic is being discussed. I very recently had a conversation about lesbian porn in which someone criticized long nails. I can remember criticisms of long nails dating back to my earliest conversations about lesbian porn. At that time, it felt like we were critiquing false representations of our sexuality, that that wasn't what "real" lesbian sex looked like. Since then, though, I've become aware of how essentializing that idea is.
"There are so many ways in which sexuality and gender expression are policed or degraded, from both outside the community as well within. I think, all too often, the criticism is focused on traits that would be considered feminine.
"The queer community is certainly not immune to misogyny. There are plenty of criticisms to be made about some of the porn that is made, but we need to challenge ourselves to think about what it is we are saying and what it is that we are actually trying to communicate. For all those with long nails, or for those who appreciate a long-nailed babe, you can always use the classic cotton-ball in the fingertips of a latex/nitrile glove trick." – Nic Switch
"I'd love to speak out for long nails. I've always had long nails throughout what is approaching my 7th year in porn, as of June. Genetics has blessed me with abnormally strong nails, so I always keep them very long. I imagine some performers have been a bit scared when they first see them, but I've never had a complaint about fingering with them. If you position your fingers right, it's just the flesh of your fingers that's making contact with the other person's genitals. But if a performer did feel nervous about being fingered with claws, all you need to do is take a latex or nitrile glove and put cotton balls in the finger tips. Boom! Safe and comfortable fingering for all!" – Iona Grace
---
"I've had all styles of nails over the years and I've also been on the receiving end of sex with all styles. In my experience, natural nails tend to be much sharper than any style of acrylics or gel nails, no matter how long. Furthermore, it's generally not a good idea to jab someone with the tips of your fingers while fucking. I generally use the pads of my fingers to stimulate a pussy no matter what kind of nails I'm wearing. When I have long acrylic nails, I usually go a step further and get gel polish on the underside of my nails to smooth out all of the sharp edges. It really boils down to being conscious of what your fingers are doing down there and not jamming them anywhere in a way that might hurt. Also, not all long nails are sharp." – Daisy Ducati
"It's pretty silly that people think having long nails would indicate someone's sexual orientation. There are a million ways to have sex! I personally don't like fingers inside my holes, so long nails are never a problem. Through communication, a good nail technician, and technique, nothing stands in the way. Nail condition and authenticity don't go hand in hand — no pun intended!" – Arabelle Raphael
---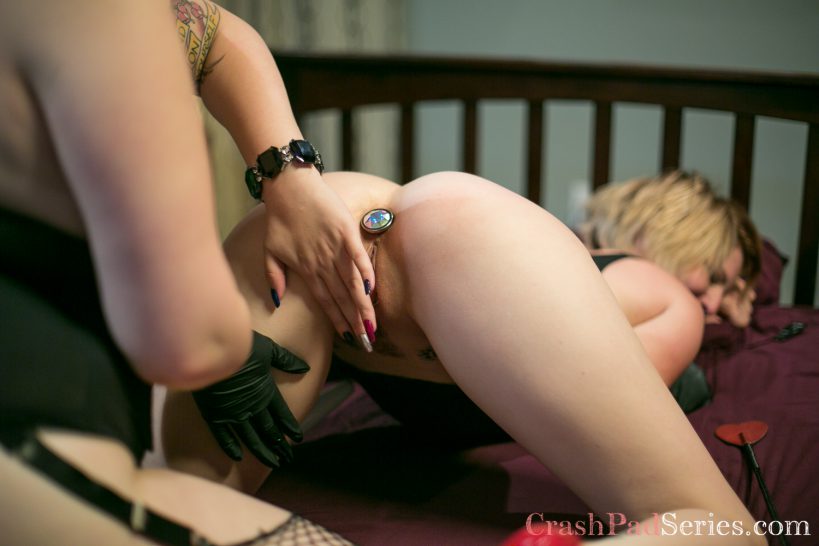 "As a femme presenting person who loves fucking femmes, long nails are a common part of my sex life. I've never had an issue, and I actually love to use them to provide an extra sensory aspect to manual sex. When my nails are especially long, I'll use double gloves, or gloves with cotton balls in the tips — great for those extra sharp stiletto nails! Don't shy away from fingering or fisting with long nails, just use the extra length to your advantage." – Lux Fury
PILLOW TALK: from their behind the scenes video:

LUX: In my personal life I'm all about safe sex practices, you know gloves are a fetish too — the black latex is really sexy. Condoms for everybody until I'm fluid-bonded. You know, just safest sex in my opinion.

KAY: Great. (nodding in agreement)

LUX: What about you?

KAY: I am the same way — very safe sex until I'm fluid-bound. We've been playing for a number of years, so we are already fluid-bound. I wear gloves because of (motions with nails) the claws.

LUX: I appreciate that. (Both laugh.)
---

PILLOW TALK: from their behind the scenes video:

SELPHIE: You always have long nails.

AVIVA: Whoaaaaaaaaaaaaaaaaa!

SELPHIE: But I also don't like to bottom. Like in, like in that way.

AVIVA: That's true.

SELPHIE: I usually keep my nails short and –

AVIVA: – Except for that one time –

SELPHIE: Well, yeah. Except for, like, right now.

AVIVA: This is the second time. (Laughs)
---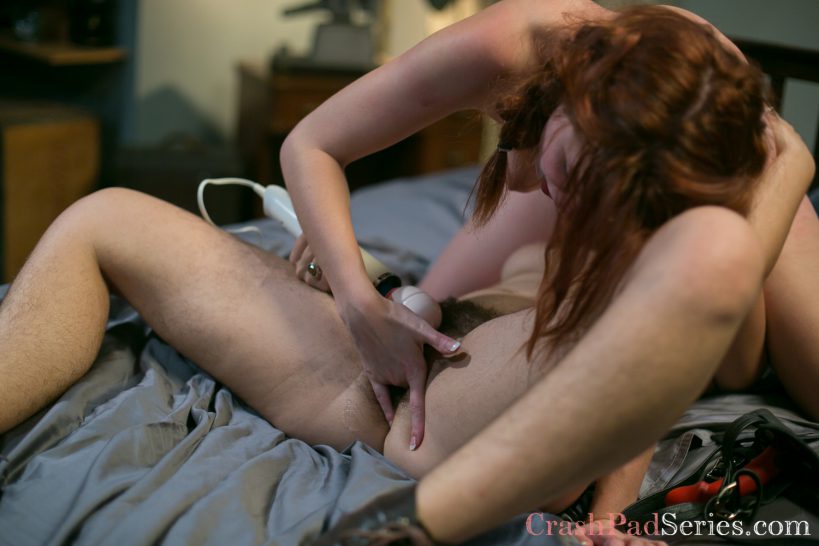 "What do I think about long nails in porn shoots? In my personal opinion, each performer has to do with their body however they please. If you want to have tattoos, go ahead! If you feel like having long nails, or short, or painted in tacky red… Who am I to judge?
"I think it is wrong to think that certain characteristics are bad or not feminist simply because they are normal within what we commonly call 'mainstream pornography.' In the same way that the practices performed on camera have to be a consensual decision among the performers who participate in them, and we as viewers can't judge them, the way performers display their body on screen – hair color, amount of body hair, etc – can only be a decision made by themselves.
"There are no practices that are more demeaning, humiliating or worse than others just because they are common in the most commercial type of porn. Say for example, anal sex, facial ejaculations, gangbangs and so on. Nor is it less feminist to wear a fishnet bodysuit and platform heels than to dress in your ordinary clothes.
"It is dangerous to think that what we consider 'natural' physical characteristics are better, or that they represent the majority of women. There are people who like long nails, others who love short nails, some people like to shave and many do not. All options have to be welcomed and integrated into our common imaginary! Long live diversity!"
– Amarna Miller
---
Did you catch those tips?
From our Queer Sexual Health Resource Page:
Make sure your hands do not have any open wounds, nails are clean of dirt, and filed smooth.
For acrylics, get gel polish under the nail to make sure the edge is smooth.
For extra long, pointed, or nails with decals, you can cushion the tips of a glove with cotton balls.
Use the pads of your fingers for good pressure, and above all — communicate with your parter to do what feels best!
Happy fucking, long nails or not!
Originally published on May 22nd, 2017. Periodically updated and republished.