"Ask a Pornstar" from the convenience of your phone!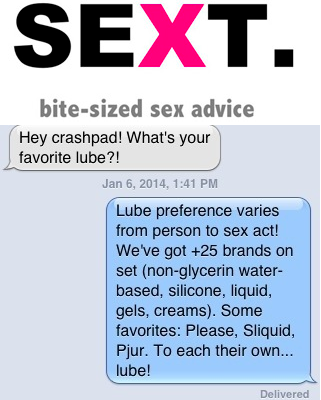 SEXTadvice, the bite-sized sex advice service created by sex educator and writer Yana allows people to anonymously send questions. CrashPad has been invited to be guest advisors!
Besides having first-hand sexual experiences here at CrashPad, many performers are themselves sex educators, nurses and health advisers. And we all enjoy pleasure and consent! Find out our favorite lube and toys, queer sex, and more. Your answer will be replied by SEXTadvice and posted (anonymously) as a screenshot on their site.
Here are some of the amazing performers lending their texting thumbs to answer your questions. See below for an archive of all our answers!
Text us! [number no longer active]
---
QUESTION ARCHIVE!
1. Hey CrashPad! What's your favorite lube?!
Lube preference varies from person to sex act! We've got +25 brands on set (non-glycerin water-based, silicone, liquid, gels, creams). Some favorites: Please, Sliquid, Pjur. To each their own… lube!
– Jiz & Shine… before coffee… good morning from the Pink & White studio!
2. Any advice on getting into queer porn if you don't live in San Francisco [Bay Area]? Help a bumpkin out!
Do some research. (Producers:) Do informational interviews to get an idea of what you're getting into, and pick their brain a bit about how they do it. (Performers:) Apply and show up!
– Shine Louise Houston
Queer porn is where the heart is! While the Bay Area's undoubtably a mecca, there's a growing movement across the USA and world, wherever culture and accessible technology allows. Be open to opportunity, and also have the courage and resourcefulness to do it yourself. (Also, PinkLabel.TV has a Performer Newsletter for performing opportunities!)
– Jiz Lee
Alas, most queer porn folks are West Coast-oriented. But the good news is that sometimes they travel! And they love accommodating out-of-town folks into their schedule if you're willing to travel! Try looking at the model inquiry pages on your favorite queer porn sites. Most sites include some sort of application with somewhere to state if you're willing to travel. And who wouldn't like a vacation to the Bay Area complete with a porn shoot? And join in on the social media of your favorite companies so you have a heads up if they're traveling to your neck of the woods and are looking for models.
– Stealth Machine
There's not a ton of options, unfortunately the best is often to get some friends together and make your own.
– Tobi Hill-Meyer
I hate to say it, because DIY is such a cliche response, but it might take you making your own site. Start with Clips4Sale or similar and then, if it's working out financially, make your own site! The Bay Area and maybe NY are the strongholds at the moment but it'd be amazing to see that expanded!
– Kitty Stryker
DIY! Besides giving you time to feel out your personal limits/scene on your own terms, you can upload your work and find likeminded queers! THere's definitely a queer porn circuit, but people travel and if you get in touch with producers, you may be surprised how quickly things fall into place. Visiting SF sure doesn't hurt though. Best of luck to all the freaky bumpkins out there!
– Vaughn Trapp
Have some good photos taken of you, send them to your favorite queer porn companies, get a dialogue going with their casting agents, and if they book you, arrange a trip to SF and have the time of your life. :) good luck!
– Eden Alexander
The Bay isn't the only place but it is where the most regular work and visibility of queer porn is. There are also a few projects in the UK, Fruit Punch Productions in Maine, QueerPornTV sometimes films out of New York, and tons of homegrown, homespun smutty magic all over. Start with your definition of queer porn and then apply to sites or email filmmakers directly. If you're bursting and can't wait, grab some friends and a camera and find out how you like porn to be! if you do this, I recommend thinking about the best home for it before putting it online. Keep reaching out! xo
– Lyric Seal
Getting into queer porn is super fun and super easy! It was not super fast, if you want to shoot with a production company. They may be scheduled as far as a year in advance. Your best bet there is to apply to CrashPadSeries.com, QueerPorntv, FTMFucker, and every other site that strikes your fancy. It helps to come in with a costar who know wants to shoot with you.
– Hayley Fingersmith
When I first got into porn i was also a bumpkin (Grand Rapids, Michigan). I suggest starting to diy with other queer or kinky friends or even posting [unpaid] self shot solo scenes to queerporntube and there is always the option of taking a week trip to the bay and shooting as much as you can within the time.
– Chelsea Poe
Plan vacay time where the queer porn is being shot, try doing your own cam shows or you can start your own company!
-Q
Research the companies out there and apply to them. Send them emails asking if they can direct you to other companies closer to you. If there aren't any, plan a grand trip! Or make your own queer porn! Lord knows we need more of it in the world.
-Andre Shakti
3. What are other things you can do if your girlfriend doesn't like penetration?
[Editors' note, check out non-penetrative CrashPad scenes with J-Bird & Lyric Seal, and Mendhi Henna & Kitty Stryker, and this post, Vaginismus & Non-Penetrative Sex is Queer Sex.]
So many things! Oral sex, mutual masturbation, dirty talk, hand jobs, sexy stripping, rimming, vibrators, nipple play, and more! Whatever else feels good for you both.
– Stealth Machine
3 words: hitachi. magic. wand. the only vibrator you'll ever need! also experiment with role play, handcuffs, blindfolds, or other ways to share a great sexual bond. xx
– Eden Alexander
Oh my goodness: so much! Think about it like this: there's one place your cock (based on how you asked the question, I'm assuming you have one) and fingers can't go. But that potentially leaves everywhere else! Ask her how she likes to be touched. Experiment together! One thing in particular I enjoy is rubbing genitals with my partner externally, sliding her labia over your cock. With the right angle (try her on top), this gives her clit stimulation, gives you head and shaft stimulation, and gives you both that warm delicious feeling of very intimate skin contact. If you want more ideas, watch some lesbian porn (preferably queer) and remember that your equipment isn't *that* different from theirs. Talk to each other about what you're enjoying, experiment, and have fun!
– Hayley Fingersmith
Woah, this is a deliciously vague question! Everything! Rub it out! Ask ways that she likes to be touched and try things out! There's naked dry humping, scissoring (LOL), pussy/cunt/junk stimulation with fingers or knuckles or the whole hand, knees! use yr knees! 69, licking, sucking, biting, kissing everywhere, impact play, massages and getting yr buzz on with vibrators or other toys. xo
– Lyric Seal
More possibilities than I can mention here: oral, hands, vibes… If she doesn't like receiving penetration, maybe giving.
– Tobi Hill-Meyer
Oral, manual stimulation of external genitalia, kissing, making out w/clothes on or off, nipple play, foot play, bondage. I could go on…
-Q
If your gf isn't into penetration I would look into clitoral stimulation toys. The hitachi magic wand is a fun one you can put it in between the two of you where you both can share an orgasm. Also clitoral with some anal stimulation can also be a lot of fun too.
– Nikki Darling
Penetration as the be-all/end-all bores the shit outta me! Mutual masturbation is great – once you see how your girlfriend likes to get off, I'm sure you'll dream up a dozen filthy ways to get involved! Also, when I ask for penetration what I usually crave is pressure, which can be achieved through massage, impact play, restraint, or strategic positioning – half the time, these things get me off before anything's inserted!
– Vaughn Trapp
Like anything with sex communication is the key. One of my past partners also wasn't into penetrative sex and we found hardcore making out, touch, playing with each others breasts and mutual masturbation to be very fulfilling.
– Chelsea Poe
Talk to her! The possibilities are endless. Experiment with different sensations (tickling, pinching, slapping, massaging) & temperatures (cold & hot) on different parts of her body. Does she enjoy clitoral stimulation? Receiving oral sex? You could also have her masturbate in front of you if she's comfortable to see how she gets herself off!
– Andre Shakti
You can work her front bits, rim her booty, stroke a strap on. lick armpits. SO MUCH!
– Emma Claire
If your girlfriend doesn't like penetration, vibrators are also fun outside over the labia, not just on the visible area of the clit! Try pinching the lips gently to increase blood flow as well, if she likes – go for pressure vs pain. Light tapping/slapping of the vulva can feel amazing too.
– Kitty Stryker
4. Anyone have any info on if it's possible for a post-op trans woman to be fisted?
The vaginal lining is less stretchy than cis women. I've known one person who could, and several who tried and tried and were never able to. It probably depends on individual bodies and different surgical technique. But basically, it seems possible for some, but not for most.
– Tobi Hill-Meyer
There are post-op trans women who can be fisted. Generally, it's a slow process. You've probably read the advice: it won't happen your first time. Work up to it, stretch gently and frequently, stop if you feel acute pain, communicate a LOT. And keep in mind that everyone's body is different. It's been possible for some people. It might not be possible for you. That's okay. There are cis girls and trans guys who can't be fisted, either. We say the vagina is meant to accommodate a whole baby, and that's true, but childbirth is DANGEROUS, there is often physical damage (tearing), and the hormonal regime of childbirth is very atypical and does very interesting things to one's tissues to help them get the baby out. It doesn't say anything about you or your partner if it's not possible—hell, it may just mean their hands are too big ;) Take it slow, use lots of lube, and good luck!
– Hayley Fingersmith
this is complicated! You wanna be suuuuper careful! Consult yr surgeon first. Go w larger toys (Vixen Randy dildo). Work SLOW. You wanna be more concerned with the actual fist in there more so than getting it in. Inside tearing=ER visit :(((
I'm super interested in doing this when I get bottom surgery to the point of asking about an additional skin graft in there. Also. Five fingers outside totes can be fisting.
– Emma Claire
5. What are some good beginner anal toys?
Start with a great bottle of lube & your fingers. Then try plugs that are roughly the size of your thumb & go up from there. Anal beads that taper in size work & feel great & so do inflatable anal toys, which can help gauge and stretch you.
– Eden Alexander
One of my favorites is the Pandora — it's slim, angled for p/g-spot, vibrates, pulses, and is water-proof.
– Tobi Hill-Meyer
The Fun Factory's Bootie is my bestie! It's delightful for solo sessions, enhances partner play, and you can wear it out without fear of an escape incident! And if you ever wanna step up your game, Njoy's plug is beyond wonderful.
– Vaughn Trapp
When I was first getting into anal I found the small and medium njoy plugs to be a good way to get your body used to anal penetration. The key with anal is taking it slow and if something doesn't feel right, stop.
– Chelsea Poe
My favorite beginner anal toys are FINGERS! Haha. But seriously, you want to start small and work your way up. Butts are like rear view mirrors in that objects DEFINITELY feel larger than they appear! Make sure anything you put in there is body safe (made out of 100% silicone, hard plastic, metal, or solid glass) and has a big flared base on the bottom (so it doesn't get sucked in there!). LOTS of lube is also key — I'd recommend a silicone lube like Swiss Navy or a thick water based lube like Sliquid Sassy. Specific toys? Fun Factory has great beginner anal bead toys. NJoy makes beautiful metal butt plugs of varying sizes. And Tantus makes some wonderful silicone butt toys!
– Andre Shakti
6. This question is for Jiz Lee. . . What's your favorite brand and type of strap-on?
A harness for every occasion! I like "jock" styles with 2 straps for stability & easy-access ;-). Faves include Spareparts' Joque (easy-to-clean, comfy, adjustable). I love recent innovations of fabric "underwear" styles, though straps are where it's at for me!
– Jiz
7. What kind of lube do you recommend for a strap on?
I always use condoms w/ strap-on, so choice of lube as far as effecting the cock is negligible. My choice in lube has everything to do with the preference of the person I'm fucking and the activities we'll be engaging in. Lots of people are sensitive to one thing or another, others have no particular sensitivities. I recommend keeping a variety of types of lube and condoms (for the same reasons) on hand.
– Q
I have always used liquid silk and its always worked great with strap on play
-Chelsea Poe
The same lube you prefer for other penetration, depending on what hole you are penetrating! Just make sure that if you're using silicone lube and a silicone cock, that you put a condom on the cock first – liquid silicone can damage solid silicone!
– Andre
It matters more where the strap on is going. I often go for maximus for anal and Sliquid for vaginal/front hole.
– Tobi Hill-Meyer
If your strap-on cock is made from silicone, don't use silicone based lube since it will melt your cock! Water based lube is usually the best all-round choice. Avoid glycerin based lube since it's not great for the flora of our holes. Try ordering some sample packs online to find one that works best for you!
– Stealth Machine
Lube! I recommend silicone based because it doesn't disappear as fast and Im generally pretty tight and need to be well oiled. I like water based on the whole though. I don't have a brand preference although have had great luck w anything from Good Vibrations.
– Lyric
WET Lube is my favorite. water based for your silicone toys, and silicone based for all the rest of your toys. washes off easily and has a nice silky feeling on your skin.
– Eden Alexander
I particularly like Hathor Aphrodisia lube or Liquid Silk for strap on play, though if using anally I'll use something thicker like Maximus.
– Kitty Stryker
8. After a trans woman has bottom surgery, what are some good ways to help her body relearn how to orgasm? Specifically, before surgery, she experiences a "pumping" sensation during orgasm (which is presumably what many cisgender males experience). Despite having been on hormones for two and a half years, she does not, however, experience what many trans women seem to glowingly describe as a "female" orgasm. Presumably the pumping sensation will no longer occur after surgery? Given the sensations she currently experiences during orgasm, what is she likely to experience afterwards, and what are some good techniques to reconnect with her body so she can orgasm after surgery?
She'll have to re-explore her body and find the kinds of touch and stimulation that feel good and work best for her. Focusing on finding the best sensations rather than achieving orgasm or a specific kind of orgasm can really help. Is the pumping sensation associated with ejaculation (or the body trying to ejaculate if she can't)? You can have different types of orgasms through different activities or by being in different headspace, although biochemistry may play a role. Genitally focused, penetration focused, g/p-spot focused, whole body focused, etc. That's a lot of what folks talk about when they talk about "female" orgasms. I can't say how things will change for her, but I can say that ejaculation is possible after surgery, and so are a range of different sensations, experiences, and types of orgasms.
– Tobi Hill-Meyer
Wow! This is a very involved, beautiful, and personal question. First off, I have a hard time (personally) as a gender queer trans woman to fully accept that "female" and "male" bodies have super different orgasms. That pumping thing you describe? Every body has contractions when they cum. Some female-assigned at birth folks love the sensation of ejaculating which I'm sure has a very similar sensation as male-assigned folks. I guess I would challenge you on what makes an orgasm not "female" but more you. What sensations are you going for? Our bodies are beautiful and complicated. You can explore lots and lots of sensations that can make you cum in different ways. Prostate, nipple stimulation, bondage, impact play, a hitachi magic wand (which I love on my trans girl body!). A female, male, queer, unicorn, etc orgasm is whatever you want it to be :)
– Emma Claire
I have found that there are breathing, meditation, and energy orgasm practices specifically found in Tantra, but also in other types of spiritual erotic practice, which are not genital specific and can help one move orgasmic energy thru their body in new ways. Barbara Carellas does badass fire breath energy orgasm and gender free orgasm workshops!
– Lyric Seal
9. In the past few months my partner and I haven't been having sex. I know that she has some self esteem issues that she's dealing with, so I've done my best to be very respectful and understanding of her boundaries. The only problem is that our lack of a sexual relationship has had a negative effect on my self esteem and my relationship with her. Sex is my way of feeling close to someone, so it's been difficult. It's also discouraging after a long while when it feels like your girlfriend isn't attracted to you. Anyways, I don't ever ever want her to feel pressured to have sex with me. That can be traumatic for people and I've been in that situation before. I'm starting to feel like I wish I didn't have a sex drive at all. When I'm feeling frisky it makes her uncomfortable but when she's feeling frisky, I feel discouraged and also I feel guilty because I don't know if she's doing it because she wants to or if it's because she feels obligated… I just really miss her more than anything. Anyways, any advice on what to do?
Sorry, I had lots to say on this one. Maybe it could be broken down.
1) Have you talked with her about how you feel and what you're thinking yet?
2) Trust her to do what's good/comfortable for her. If she's being frisky, she's doing what feels good to her in that moment. Follow her lead.
3) What is considered a "healthy" sex drive varies from person to person, day to day
4) Not everyone needs/wants sex as a way to feel closer to another. Intimacy is so much more than just sex. Ask her what makes her feel connected and close to you and do that.
5) Perhaps you could both seek counseling individually to gain insight into your own feelings/responses around the others behavior
– Q
You hit it that obligation is a mood killer on either end. The best you can do is work to eliminate that obligation. Have date nights where you connect in other ways. Make dinner together. Go dancing. When you're feeling frisky, give her some attention without expecting it to go anywhere. Nurture your connection and warm feelings for each other and things may resolve themselves. If you need release, there's always masturbation and porn. Also, working to find out more about what's going on will help. Is she asexual or demisexual? Maybe watch "(A) Sexual" on Netflix. Is she a survivor? Read the Healing Sex or watch the DVD. Is she on an anti-depressant, have a hormone imbalance or other medical reason to have a suppressed sex drive? Talk to a doctor. I have a partner with a low sex drive and we've been together over 15 years. Sex sometimes happens, but it can be rare. We still have a strong and loving relationship, support each other, and get plenty of cuddling. I also very much experience closeness through sex, but together we've found other ways to feel close too. It helps that we're poly and it's not the only sexual relationship in my life. That may or may not work for you, but if you feel good about this relationship and want to make it work, there's plenty of options out there.
– Tobi Hill-Meyer
No easy answer! But start by talking to her. Be honest and let her know you miss that closeness and want to find ways that both of your needs can be met! Avoid language that puts the blame on her. Use it as an opportunity to strengthen your relationship by finding healthy compromise that works for you both. And this is a great opportunity to help her explore ways that you can help her feel more confident, too!
– Stealth Machine
I'm sorry to hear that you're experiencing that kind of disconnect! It's very common. Communication is key. Talk to her openly, honestly, and without judgment or blame about what you're feeling. Put an emphasis on caring for her and wanting to connect with her. See if you can compromise on connective activities that are intimate, but not necessarily sexual. Massage, cuddling, making out, or even just making very intentional date nights to spend time with one another (a dinner and a movie, etc). In terms of sexual release, perhaps you can masturbate to orgasm while she holds/kisses you. If none of these options work, it may be time to discuss trying an open/polyamorous relationship, but that's a WHOLE other conversation! Good luck!
– Andre
the line that stuck out the most is that you really miss her. baby steps: tell her honestly about your needs and ask for a compromise: date night once a week where you have sex at the end of the night. although planning sex seems sterile, you can get really excited beforehand when you know it's coming, and it can get you back in the routine of intimacy again. remember: you guys are a gift to each other, and you're just on loan to each other and this world.
– Eden Alexander
10. Nikki Darling – you are a POWER bottom! Any tips on how to do what you do so well?
I would say communication is a big a factor never be afraid of saying when something is too much or hurts in a bad way. Most tops like bottoms that communicate over toughness. Also keeping track of your breathing does wonders in absorbing and processing pain. :-)
– Nikki Darling
11. How do I pitch fisting to a new partner when I have lots of practice and she has none, without "freaking her out?"
I'm a fan of the direct approach. Ask! If they say yes, give reassurance that you understand that it may not happen the 1st/2nd/whatever time you try it. Let them know you are super good w/ being patient and going slow. Then go lube shopping together!
– Q
You can start by talking about how much you enjoy it and why! Then gently suggest you'd like to try it with *her.* Be sure you've done your research so you can answer any of her questions. And when the time comes, don't forget to GO SLOWLY and use LOTS OF LUBE! Don't forget it may take a number of tries before you can get the whole fist in there!
– Stealth Machine
It seems simple, but tell her it's something that really turns you on, and ask her how she feels about it! (Or, if you want to take the "easy" road out, you can say that you "heard about it from a friend" or "saw it in an awesome queer porn scene"!) If she enjoys penetration, and enjoys the feeling of "fullness" inside of her, she'll probably be game for it, especially if you're an experienced fisting top! And if she's not, just don't make her feel bad about it. You never know what the future may hold!
– Andre Shakti
12. What are some specific techniques you have tried to successfully make yourself orgasm in different ways especially if you didn't initially orgasm often, easily, or in multiple ways? Experimentation is key and I'm eager to try new things that I haven't done or thought of doing.
Breathe! Switch up your breathing patterns and you can feel things shift. It's quieter than a Hitachi and you can do it alone or with a partner.
– Q
I taught myself to have vaginal (as opposed to clitoral) orgasms by watching Nina Hartley's Guide to Female Ejaculation! I also learned to squirt :) But you're right! Experiment! Try new toys, new lubes, and new methods (have you tried edging, for instance?)
– Stealth Machine
12. Hey! I was wondering what do you all think the best way to set the mood is?
Talking to your partner about what you want to do, and asking them what they want to do, can be a super sexy way to set the mood. And bonus: It's a great way to help get consent and set boundaries! Try doing it while making out or engaging in some heavy petting. And of course there's always watching some Crashpad Series porn!
– Stealth Machine
No TV on! (unless you're using it for music), music, lower lighting, make sure the room is a comfortable temp for being naked, have something the other person likes to drink on hand (water is amazing and you'll appreciate it later), make sure you've eaten! Then talk about what you want to do with each other.
– Q
Candles. They make everyone look SO pretty. Also, did you know they make massage candles? These are candles which melt into a warm oil when you burn them. It's cool enough to pour right on your partners' skin, it feels AMAZING, and remember how candles make everyone look really pretty? I've also had a lot of sex to cello music. Especially in movies with hot sex scenes, like When Night Is Falling. This might work better with lesbians. We really do fucking love our cellos.
– Hayley Fingersmith
Lighting is key: low and warm tones. the room/space should be warm too. Im not much of a fan of putting on music before or during sex but thats your call. Sometimes pop or rnb or punk music is fun but nothing too sappy or scary, lol. Available sexy snacks/drinks. Lounging around in comfortable clothes and talking bout shit that really matters to you and them. Thats what does it for me! xo Lyric
– Lyric Seal
13. Can you recommend any wax alternatives to keep the vag hair free and super smooth?
I shave and apply lotion right after. Periodically, I use Veet, which works pretty well for me and helps slow and soften hair regrowth, though some people find it irritates their skin. Laser is also really effective, and commensurately expensive.
– Hayley Fingersmith
Sugaring is another waxing alternative. You should get it done professionally. Please never use veet or nair; it's horrifying!
– Lyric Seal
14. Is finding trans and genderqueer people extra hot, for their gender, exploitive or insensitive?
Is there any pointers on hooking up with genderqueer folk to not accidentally be ignorant? I haven't yet, but are they totally in my spectrum of 'hot damn lets make out!' and I'm a fan of being smooth and not a jerk.
It's ok to have a preference, but remember first and foremost that these are PEOPLE, not just sexual objects. While hooking up, make sure you ask what they like to call their body parts, how they like to fuck, and what is off limits. Make sure you periodically check in with yourself to make sure you're not fetishizing someone's body or identity, instead of seeing and interacting with them as a complex human being!
– Stealth Machine
i think you have a great attitude, & attitude is key in this situation. i love that you're confident enough to say "you're hot, let's make out!" bc you are attracted to that *person*. sometimes when people are working out their sexuality and are still confused, they can be offensive or ignorant bc they're caught up with labels. for example: "I'm not GAY!" "my family can't know i'm dating a TRANNY so we have to keep this quiet." "I've always wanted to be with a lesbian…" etc. dialogue like that can be very offensive or insensitive to LGBTQs bc of their daily struggles to live a normal life. being sexual is one of the most normal things a person can do, so no one wants to feel less than or beneath someone else because of how they're spoken to, whether intentional or not. also, nobody wants to feel like someone's else's dirty secret or sometimes, fetish. so in a nutshell, find common ground to relate to (like hotness!) besides their orientation, and always have safe sex! ;)
– Eden Alexander
15. What are your favorite anal lubes?
Swiss Navy and Sliquid's "Sassy," hands down. Just depends on whether you're a silicone or water-based kinda person!
– Andre Shakti
Liquid silk and wet silicone lube
– Chelsea Poe