CrashPadSeries.com won "Specialty Site of the Year" at the 2014 XBIZ Awards. We wouldn't exist without our models, so we asked them what makes CrashPad special, and what they thought about queer and independent porn being recognized by the major adult industry.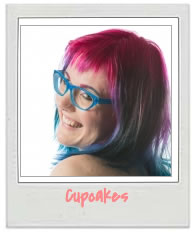 Sugar Blair (CrashPad, Twitter)
I love shooting for CrashPad — it's such a collaborative, creative process. Shine Louise Houston asks what we want to do, and then helps us make the scene come to life. Everyone who works there is so friendly and thoughtful — the space embodies ethical, sex-positive feminism. CrashPad centers and celebrating the sexualities of people who have traditionally been marginalized (POC, trans* folks, queers.) Visibility is so important. For marginalized folks, seeing someone who shares your identity, looks like you, fucks like you do, can be SO powerful. It makes you feel like you're not alone.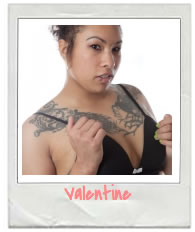 Valentine (CrashPad)
The overall welcoming atmosphere created by the cast and crew before, during and after was so relieving and heart warming. Even during the initial application process I felt supported. As models for the site, we are able to choose who we perform with. I was able to meet my scene partner before the day we shot together and talk about where our comfort levels were, and general conversation. It was nice to put a face to a name and alleviate any nervousness beforehand. Upon arrival everyone was casually chatting and comfortably milling about. During the shoot my scene partner and myself were able to naturally connect without much direction which was great. Everything was on the table as far as content. Also there was never any pressure to perform outside of your comfort level. The idea that there is adult content that caters to the attainable idea that sexy can be seen in many forms. We don't all have a similar style; which can be portrayed in mainstream porn content. CrashPad works at tearing down the fantastical idea that as porn models we're performing and no actual chemistry exists. For me personally, it gave me an outlet to be hot, sexy and sweaty with someone else and have people enjoy that energy exchange or possibly connect with us as individual characters. To see me as a model and say to themselves "wow, she looks similar to me or my style and she's sexy! I can be sexy too" that's my hope when doing sex work of any kind is that people can relate and perhaps tap into their own sexual prowess. If people are consuming queer and indie porn at the rate of other companies or genres, then we deserve the chance at sharing these same adult industry event spaces. Also knowing that queers are being represented in a non fantasized way gives people a clear representation of what queers look like. What queer sex looks like.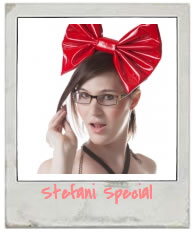 Stefani Special (CrashPad, @Stefani_Special)
What makes the CrashPad special is being able to completely collaborate w/ my scene partner on a fantasy of ours & let the energy guide the scene. Also, everybody is so supportive, open-minded & free thinking. I love the way they market Trans-women as Trans-women.


Sparky SinClaire (CrashPad, @sparky_fett, Sparkysinclaire.com)
I liked that we had complete freedom to indulge in whatever type and form of pleasure moved us at the moment. That no matter the person & their experience, fame, gender, etc. everyone was paid the same. Is it important that queer, indie porn be included at major adult industry events? Absolutely. It is a part of the adult industry. Not everyone does anal and obviously that doesn't mean it's kept separate from the industry.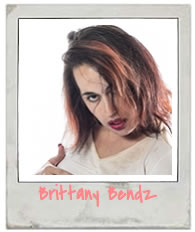 Brittany Bendz
CrashPad (ala Kimberly Kills), literally helps Brittany Bendz get her 'foot' in the door!" :)))))))) P&W was the first to profitably address an unrecognized and fragmented audience and make it as enjoyable produce as it was to watch!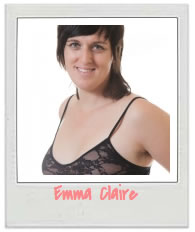 Emma Claire
Queer and independent porn belongs at major industry events to showcase raw, authentic, and diverse representations of sex, gender, and sexualities. Plus, it's some of the hottest content out on the market! Working for CrashPad, I know I am part of something truly special and authentic. I get to feel real chemistry and fuck how I want to fuck as a queer trans woman. CrashPad reveals how hot queer sex and trans bodies are in a picturesque, voyeuristic form.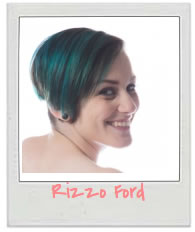 Rizzo Ford
What I liked about shooting with CrashPad was being able to choose my scene partner. It's nice showing up to set knowing exactly who you'll be performing with. It makes it way less awkward and the sex way more real. The whole crew was super nice and really make you feel welcome. I look forward to the day I get the opportunity to shoot for y'all again! The public needs to know that we exist and that there is more than just your typical mainstream porn out there. We need to show people that there is porn out there where all genders, races, body types, are represented and treated fairly.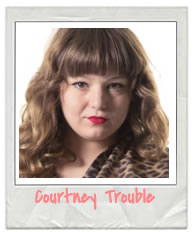 Courtney Trouble
The Crash Pad Series is my all time favorite company to perform for outside my own productions. The magic is in their ability to shoot around the performer's creativity and sexual desires. They build the scene around the performers instead of trying to fit the performers into a conceptualized scene, and that's what makes them special to me. I know, and the audience knows, that this scene will be inventive, interesting, and arousing. I hope to be working for them for the rest of my life. I think that our visibility in these spaces is a relatively important part of our work. Aside from the incredible business opportunities it provides us, on a political and personal level seeing our own images reflected back to us in a straight, male-dominated space is empowering and rewarding. I think our continuing representation of queer porn in the mainstream will serve us good, as it will slowly give us more opportunities to raise awareness around QGLTB++ desire, and give us a platform to raise awareness around the issues that matter to us.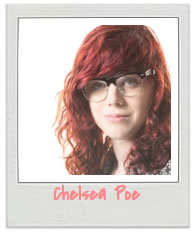 Chelsea Poe
CrashPad is what introduced me to queer porn and whenever I shoot for CrashPad it just feels super special that I'm part of something that means so much to so much to the queer community. I always loved shooting for CrashPad because its a shoot where you can fuck completely how you want to fuck compared to shoot for certain sites where you nearly have to go through a check list of positions and sexual acts. My first shoot I ever did was for CrashPad and in a way it feels like Its my porn home whenever I shoot for CrashPad. One of my biggest reasons for getting into porn is to bring the queer/trans positive ethic that is the core of queer porn and influence mainstream trans porn. I cannot stress how important I believe that mainstream's exposure to queer/feminist porn is and I believe it will lead to better porn across all genres. I think the influence of feminist/queer porn could also change the problematic terms often used by mainstream companies.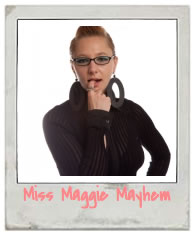 Maggie Mayhem
Sometimes as a performer in the porn industry, I get the message that my natural sexual instincts, cues, and motivations will get in the way of depicting sex for the camera. This can make it difficult to bring my sexy best to the table because if my internal experience is considered irrelevant or detrimental to a project then the best I can aspire to is a lackluster projection of what I think sex is supposed to be. Whether you're having sex recreationally or professionally, it's easy to get lost when you're working with 'what ought to be' rather than what is actually right in front of you. I love getting the opportunity to dive in and explore myself and my partner and find the erotic charge between us rather than merely manufacturing explicit images.
I absolutely love working where I don't have to feel guarded every step of the way. Ethical porn can be really dirty and hot because I unveil so much more when I'm not bracing myself for remarks that disparage my gender or body, protecting myself from unwanted physical contact from studio personnel, or worrying about whether or not I'm going to face bad faith business practices. If the set conditions make you feel "less than" for who you are, it takes a Herculean effort to overcome that and connect with the audiences who are going to be watching. CrashPad facilitates a working experience that lets me make love to myself and those watching.
Porn categories were developed from archaic technology: the way videos and DVD's were sorted on shelves in stores. For the most part, people aren't leaving their homes and going to stores to see what merchandise a brick and mortar porn store has in stock. On the storefront retail front, porn stores became toy stores. Sex toys used to be a novelty industry to supplement porn, now the sex toy side of the industry has entered a strong growth phase. The industry categories are evolving from shelf placement to SEO.
Queer porn and indie porn should be recognized at adult industry events not just because different bodies and sexualities deserving of recognition are depicted but also because it's a totally different way of doing business and relating to a fan base. Queer and indie porn talks about community, comes from activist traditions, maintains a relationship to academia, making art, getting involved in sex education and advocacy work, talking about shared personal experiences. It's not just left-of-industry content being acknowledged, it's also about seeing audiences as being broader and engaging with porn differently than they considered.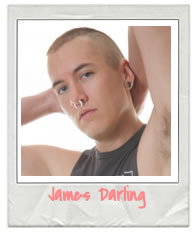 James Darling
I love shooting with CrashPadSeries because I always feel supported as a performer to make informed and empowered choices on set and they focuses on authentic pleasure from people with bodies and identities that aren't often represented in other kinds of porn. I think it is important for queer porn to be acknowledged by mainstream adult industry events like XBIZ because mainstrea            m recognition is a way to make the work that queer porn is doing more accessible to a wider audience and I think it's really validating to be acknowledged by the larger adult industry. I think anyone can benefit from seeing more hot and authentic portrayals of human sexuality and multiple models of safer sex practices. I'm so proud of CrashPadSeries and honored to have been a model on the site! Congratulations!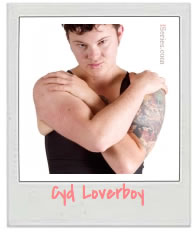 Cyd St. Vincent
Working with CrashPad was a way for me to keep doing something I truly deeply enjoy – having sex on camera as a job – through my transition. There are not a lot of companies that produce content with bodies existing outside of the 'porn norm' and I am very grateful to CrashPad for doing so much to create that market and really expand the ideas of who is captured under the erotic gaze.
Porn is a feedback loop, it reflects society and also informs society as to what are desirable bodies and ways of having sex. Queer porn being recognized at major industry events has a major effect on challenging some of the assumptions that are commonly made about who gets to be a porn star or not, and opens a door to the liberating practices of queer sex and queer bodies to everyone.