For our "Porn Stars Review Queer Porn" series, Devon Wipp takes a look at CrashPadSeries Episode 154 Tina Horn and Andre Shakti. What do porn performers think about porn? Let's hear Devon's perspective.
Tina Horn and Andre Shakti give us one of the hottest silent scenes I've had the pleasure of viewing. After entering the CrashPad, these megababes quickly let us know they are all about the show and very little of the tell. Tina saunters towards a still and most silent Andre, the only audio we hear at this point is a panting Andre and the austere sound of Tina's boots walking towards her. This motif is played up a bit more by Tina before she catches Andre by the the top of the throat and leads her to the bed. Now that Tina's got Andre right where she want wants her, Tina removes her leather gloves and jacket while tossing them onto Andre, the looks of contempt she gives aren't to be missed. After an entrance that would make even the bossiest top tremble, Tina teases Andre's junk a bit and then is off to the cabinet to grab a Hitachi Andre seems very excited about, one dildo, and a weighty j-shaped ceramic toy. Using the same leather gloves she tossed on Andre minutes before Tina puts a few stingy slaps on a very eager face and we get into a bit of chest punching and impact play before Andre strips down as Tina nudges her chest with a vicious looking boot.
Now as not to spoil the whole scene I'll wrap the play-by-play (err.. blow-by-blow) up.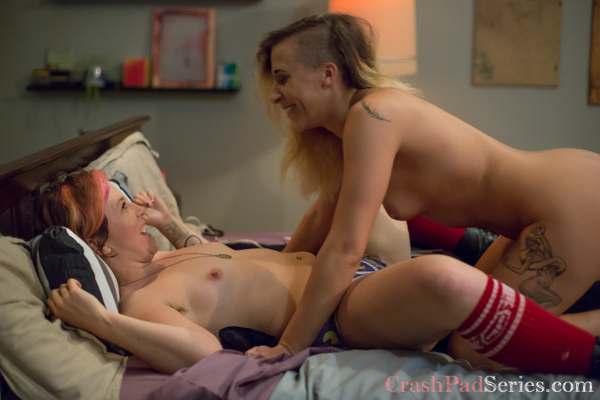 Here's the deal: as a Demisexual person who often finds themselves struggling to get verbal during sex one of the most alluring things I can witness in a scene is very little, if any dialogue. Full disclosure, I'm a total linguistics geek and word nerd but more often than not I find myself turned on by surveying the most the most primal parts of the human brain when viewing porn. In this episode, plucked right from the Dom/Sub 101 fuckbook, we see an epic struggle for power between Andre Shakti's brain stem and Tina Horn's limbic brain. Tina's lust, attraction, and desire are written all over her face as Andre plays the heavy-breathing heart-pounding Sub most Dommes dream about. For the first half of the scene we get a taste of Andre's flight response as Tina has her every which way, fist included, and at the end of the episode it's all about Andre's fight as she gives us quite the switchy finale where we at long last get a smidge of dialogue and a whole lot of noise from the no longer stern and silent Tina.
This has become one of my favorite episodes because it really taps into what I love about queer porn — switching, toys I've never seen before, and a huge display of trust, agency, and negotiated boundaries. I'd def recommend it to anyone new to roleplay or veterans who like their porn raw, bossy, and fun.
Watch CrashPadSeries Episode 154 Tina Horn and Andre Shakti now.