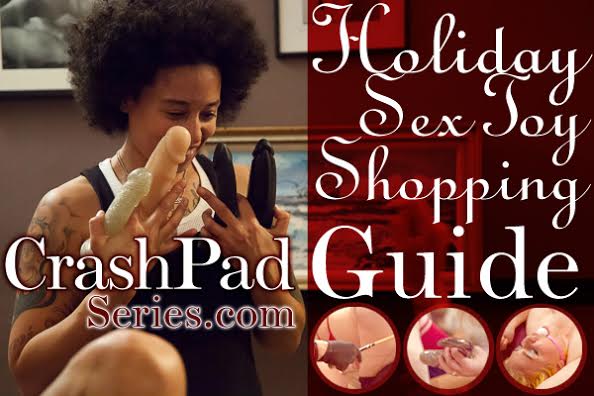 It's that time of the year for gift giving and getting! And if you give… you receive! Get toys you love at sex-positive shops like Feelmore 510, ShopEnby, Early to Bed, Good Vibrations, and Stockroom.
Here's a look at some beloved toys our site has seen this year, and where you can find them. (Warning: some sexy, naked, fucking is below!)



1. Lubricant? We say, LubriCAN!

Lube is number one on our list, and with good reason. Lube makes wet wetter, and good better. Plus there's so many different kinds to choose from… there's a perfect lube for everybody!

We suggest trying: Sliquid, Please Gel Lubricant, and Pjur Silicone.
Watch: Jacques & Papi and Hayley & Sugar, Devon Wipp Solo, and you'll find lube dribbled ALL over the CrashPad!
2. HOT DAM!

Gloves, Condoms & Dental Dams, galore! We'd like to thank Good Vibrations for being our Safer Sex Sponsor, supplying our models with a pleasure chest full of latex and non-latex barriers of all shapes and sizes.

We suggest: Glyde Dental Dams, Condoms for toys.
Watch: Chelsea Poe, Trouble & Dylan Ryan, Nikki Darling & Chocolate Chip. (Tip: all of Chocolate Chip's scenes involve dental dams, and Puck Goodfellow & Siouxsie Q's episode even uses a dental dam harness!)
3. Not just a Gag Gift


Stefani Special brought in the kink with the Spider Gag that had us drooling. For a sweeter gag, see the Candy Ball Gag used in Poppy's scene.

We suggest: Spider Gag (Stockroom), Candy Gag (Pleasure Chest).
Watch: Stefani Special & Jacqueline Woods, Poppy Cox & Siouxsie Q (Candy Ball Gag).
4. Bibity Bopity OOOOOHHHHHHHHHHHH!

The Magic Wand Original Vibrator (originally called the Hitachi Magic Wand) die-hard toy with a strong buzz that is good for all bodies. It's a site favorite. Thanks to Good Vibrations for supplying us with two of the brand new models!

We suggest: Magic Wand Original Vibrator, Attachments.
Watch: Papi & Jacques, and so many, many, many, many, more!
5. Extra Prepared

It's a little hard to get a good look at the harness in this photo, but that's just a testament to how well it works. The Joque Harness by SpareParts has been a favorite the minute they hit the market. Comfort and jocky style, with adjustable straps to fit nearly every body.

We suggest: Myspare.com, and other fine stores such as Feelmore510.
Watch: Papi & Jacques, Cyd & Muscle Beach, Arabelle Raphael & Emma Claire, and many more!
6. Take it to ELEVEN!

Njoy Eleven is a double-ended heavy-hitter. If you've seen Heavy Metal, then you get the reference. Plus, it's over 2 lbs of stainless steel. (If you want to turn it down a notch, try the smaller, curvier Pure Wand.)

We suggest: GoodVibes.com.
Watch: Ham Hawk, Minax, and Hotlips Hooligan, Chelsea Poe, Courtney Trouble & Dylan Ryan, and many more!
7. Fucking a Masterpiece

These hand-made (home-blown?) glass dildos from local Berkeley toy makers Fucking Sculptures are a work of art. They gifted us with two of their most beloved pieces for our lucky models.

We suggest: Fucking Sculptures (buy direct for the Corkscrew and G-Spoon).
Watch: Arabelle Raphael & Emma Claire and Tina Horn & Andre Shakti.
8. But of Course…

We love Crystal Delight's glass dildos and butt plugs so much. So much! And so did Daisy & Odile when they got to use and take home a beautiful sparkling plug that was sent to the CrashPad.

We suggest: Crystal Delight.
Watch: Daisy Ducati & Odile.
9. We Love Your Balls!

The New York Toy Collective hit the ground running when they debuted on the scene with the bendable "Pack and Play" Shilo dildo and Love Bump (optional bullet-vibe testicles!) attachment. We were lucky to get a shipment of a few different realistic colors to give them a try… and what can we say? They work great and come with high recommendations.

We suggest: New York Toy Collective (buy direct) and these fine shops who carry them: Good For Her, Tool Shed.
Watch: Chocolate Chip & Nikki Darling, Alani Pi & Nikki Darling, and more!
10. Style & Comfort

The Rodeoh Harness is a comfortable underwear-style harness that works great for small-medium sized dildos like the Shilo. We were lucky to be given a few for our models to wear and take home — and many used them in later shoots, so you know they passed the test!

We suggest: Rodeoh (buy direct) and these fine shops who carry them, like Sugar.
Watch: Chocolate Chip & Nikki Darling.
11. Along for the Ride

We adore the vibrating Rookie Dildo… and doesn't it look fine in the La Femme Harness? Big thanks to Pleasure Works for sending us a few different styles to put to good use!

We suggest: Good Vibrations. Get the La Femme Harness at Stockroom!
Watch: Daisy Ducati & Odile.
12. Even More to Love

Our admiration of Pleasure Works' silicone dildo selection grows further with the Admiral Silicone Dildo.

We suggest: Good Vibrations and fine shops like Pleasure Chest.
Watch: Sinn Sage & Joey Minx.
Extra Sexies: Sex Toy Goodness For Days

The sex toy extravaganza continues! Find other sex toys in more of this year's episodes: Max Power & Robin LaLonde utilize Hemp Rope. Cyd & Muscle Beach get more out of popular the Joque Harness. J-Bird & Bhuma Belle share the Share Double Dildo, Sadie Lune & Lillianne Lane get Randy. Brooklyn Flaco & Papi Coxxx harness and cocks, Lilah & Nikki Silver Harness the power, and James Darling & Tobi Hill-Meyer run the Dick n a Box business. If only we could get our holiday shopping there!