When Lea Hart told me, on a rainy day in a New Jersey diner, that performing for the CrashPad Series was the most authentic porn she had ever performed for, I knew I had to watch her episode. I was pleased to find out that her co-performer was Mona Wales, someone I also admire for her authenticity on film.
A lot of my problems with watching porn stem from how seemingly contrived the script and the performing feels. I can tell when the performers lack chemistry and it kills my spirit dick boner. None of those problems were present when I watched Mona and Lea kiss and kiss and kiss. Everything they did with one another felt so genuine.
For those of you unfamiliar with the CrashPad Series, the basic premise is that a key to the CrashPad, which is, you guessed it, a fuck pad, is passed from queer couple to queer couple. The couples are unaware that they are being filmed by cameras secretly planted all over the San Francisco apartment. This voyeuristic set-up gets rid of any element of overproduction. The performers don't mind themselves so that their private bits face the camera.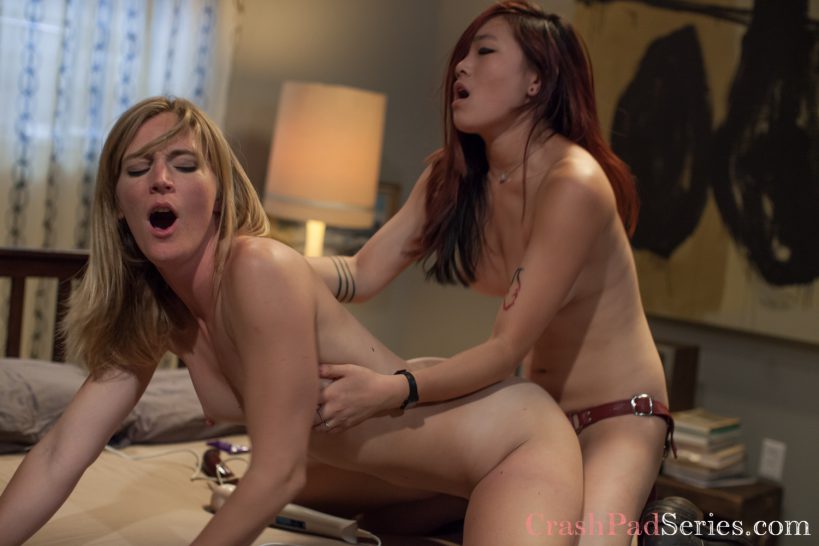 When Lea thrusts her cock into Mona's cunt, Lea doesn't care that the shadow of Lea's body doesn't obstruct an audience's view, or that her limbs stay clear for a view of all the action. Sometimes you can see penetration or pussy eating in full view, and sometimes it's left to imagination. What is left is the viewer witnessing pure fucking for the sake of the performer's pleasure.
Lea and Mona manifest pleasure as being serious and passionate while maintaining playfulness, rough and nasty while allowing space for being giggly and tender. They are insatiable together, the kind of insatiability I normally associate with young adulthood. They jump from one fucking position to the next. Their kissing never ends.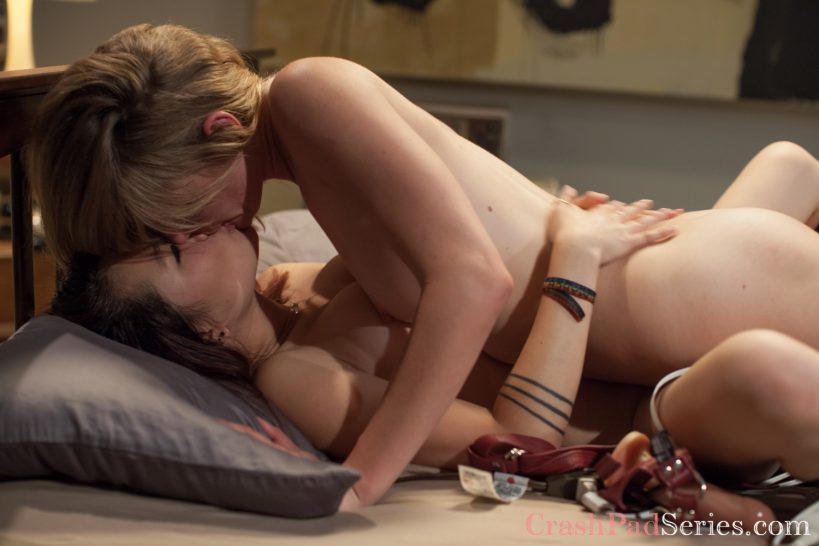 Both Lea and Mona are vocal with moans, directives, and letting each other know when one is going to come. Mona is quick with her comments throughout their entire fuck session, sometimes repeating the same sentence but punctuating the sentences in such a way that never tires the ears. I could listen to Mona say the same filthy line over and over again. She objectifies Lea's body at one point, calling her body "it," saying, "Does it like it hard? Does this little body like it hard?"
Lea says, "Yes!" No matter what the two do with one another, from switching from top to bottom and bottom to top, from strap on fucking to relentlessly holding the hitachi wand against each other's cunts, you can tell that both performers are saying, "Yes!" with their whole selves. Organic, earnest, and free.
Milcah Halili writes at SlutSmartSoul.com. Contact them via MilcahHalili.com.