If sheltering in place making you crave a rush of excitement, a lick of the unusual, a taste of something naughty… you're in LUCK.
Jawbreaker: A Virtual X Show will deliver some serious eye candy LIVE on Instagram this Saturday, May 9th, 2020. The underground online house party promises to get you worked up and feeling sweet. A mouth-watering showcase of entertainers will come together to support sex worker mutual aid funds across the globe.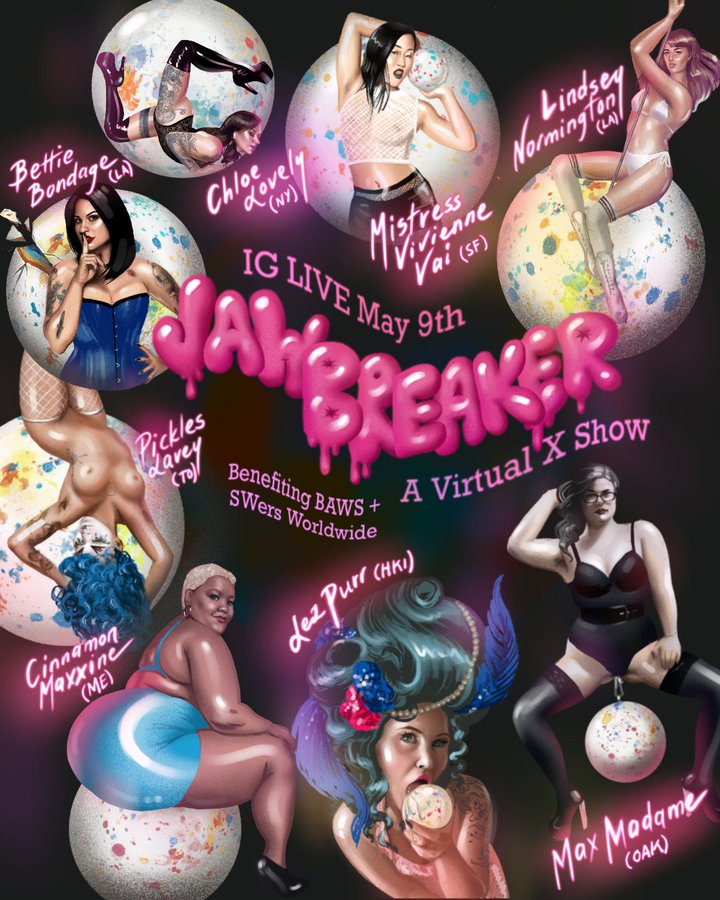 Ticket sales for this jaw-dropping event will support the Bay Area Workers Support (BAWS) sex worker ER grant fund! All other proceeds support funds for Sex Worker Outreach Project Brooklyn, Sex Worker Outreach Project Los Angeles, Sindicato Otras in Spain, and the TCP Sex Educator Fund.
Show love for our communities by bidding on the online silent auction:
A FULL YEAR membership to queer porn site CrashPadSeries.com (hey that's us!)
MAKE ART AND MONEY Print by Jacq the Stripper
One-on-One Pleasure Coaching Session by MILF sexpert Maxine Holloway
Limited Edition BAWS T-Shirts & Hankies
CrashPad fans will see some familiar faces! The all-star line-up includes Lez Purr, Cinnamon Maxine, Vivienne Vai, and Max Madame. And a coaching session by Maxine Holloway is an auction item not to be missed! Many in our community are and have been connected to Bay Area Workers Support. We're all stronger when we come together.
Enjoy the visual delights and provide relief during a global pandemic that is creating so much hardship and pain. By showing up to this party you are showing care and support while getting the pleasure of breaking all rules with hotties from around the world.
Jawbreaker: A Virtual X Show on IG LIVE
A Dirty & Delicious House Party benefitting BAWS + Sex Workers Worldwide
May 9th, 2020 – 8pm PST/ 11pm EST/ May 10th – 6am GMT+3 (don't worry, you can watch it later and still sleep in)
Tickets sliding scale: $10-$100
Get your party invite here: https://forms.gle/NHt8jdfjpQEh15LY9
Flier Art by @lorelai.blue