So I was thinking of writing this epic blog post about porn, the under funded education system, AIDS/HIV, poverty, and Measure B but I realize I could give a flying fuck about some of this hoopla and rather spend my time doing something productive and beneficial for the community at large, but I am writing this thing anyways. I guess this is why I am an educator (and poor) these days.
Do I think all performers should be forced to wear condoms, gloves and dams by some government mandated legislature that has absolutely no real interest in protecting sex workers? No, because inevitably if it passes it will drain California of vital economic resources and be impossible to enforce, not to mention be used in a way to create moral policing on an already marginalized group of people, but tell me what's new with a good portion of laws passed these days anyhow? Did I mention it would also be a huge bureaucratic money suck that would be far better spent on, oh gee I don't know, maybe perhaps adequate sex education that actually worked or health resources for people who have STDs and pregnancies?
Fortunately for California's economy and the LA Porn Industry, most major media outlets are against this measure along with very high profile performers with massive…eh…followings. You could not ask for a more well connected, far reaching, group of social media icons to be on your team and yes the #NoOnMeasureB contingent looks like the fucking Dream Team. I can guarantee that if you are a follower of porn on the social mediaz, you probably have heard enough on "No on B" to fill some binders with. I am in fact not too worried for all my LA based brethren, unless our porn fans are too lazy too vote. But if you can jack off to internet porn several times a day, you can pick your ass out of that chair and go fucking vote! And if it's true what they say, consumers want to see porn raw, you my friends will have no one to blame but yourselves if this magical, seaman soaked, gem is removed from your lives. If the ability to bring yourself to orgasm in front of the soft glow of your monitor is contingent on watching someone blow a load into a gaping vagina or asshole, go fucking vote!
Aside from voting, you know what's also a worthwhile activity? Fucking people on the regular. A big part of fucking on the regular is having a health body to do it with which leads me to my safer sex plug. You know we all in some shape or form are fascinated with watching cream pies whether it gets you off or grosses you out. And here folks is where we are adults and learn to distinguish entertainment from real life. If you can't watch a Batman movie without wanting to go blow up a goddamn theater, you shouldn't be watching it, hell you shouldn't be doing a lot of things. The same goes for porn. If you can't watch a 5 person gang bang without running into the street and having a stranger dump their mystery seaman into your holes or cramming your meat into the swampy insides of randoms, well frankly you shouldn't be watching porn either. Action movies use special effects and stunt people, porn uses extensive testing and fucking professionals. You don't think doing porn requires a degree of skill sets? Try getting fucked by a power drill with a dildo on the end for 4 hours while hanging upside down and tell me this requires no physical skill.
But I digress… really this is about you finding what practices make you and your partners feel safe and sexy. Whether it's putting a condom on with your mouth or slapping a latex glove on to fist your neighbor's hungry holes, those are the things that will lead to awesome and regular sex. The number one most important thing is using our minds, ears and voices to discover what works best for us and our partners in our sexual practices. "But Syd, safer sex ruins the moment by interrupting things" you say. You know what ruins the moment more? Having puss leak out of your piss hole. You need to know just like everything else in life, being good at sex takes practice. Being good at safer sex takes a practice and willingness to play and experiment. Real sex is awkward because you don't have a magic genie that airbrushes the dingleberries out of your ass and edits out the dull moments in Final Cut Pro, but that's also what makes it beautiful and more importantly FUCKING REAL.
In closing, I have to say that my support goes to No on B, but when pornographers and talent say "It's not our job to educate" I agree, but who's job is it then? We spend over 2x as much on entertainment than we do on education in the US and teachers earn less than 60% of the average pay for full-time college-educated workers. The cards are not in favor of our educators especially when you could be sucking cock and making over a quarter million a year and not have to deal with hordes of children. This is a call out to my fellow performers. Whatever you do on camera, you most likely have my full blessing (unless it involves puke which freaks me out), but let's make some effort to support those who are trying to educate on safer sex, because that shit is an uphill battle lined in poverty. Don't be a fucking dickhead and put down some people's safer sex methodology because you are too inarticulate to create a high impact campaign to get people to understand the issues at hand. On the real, Measure B has absolutely nothing to do with safer sex and everything to do with bureaucratic circle jerks where tax payers and the industry is left holding the biscuit. When you make good money doing something you love, remember to take some time and money out, support HIV prevention orgs, help provide legit sex education to youth, and access to birth control.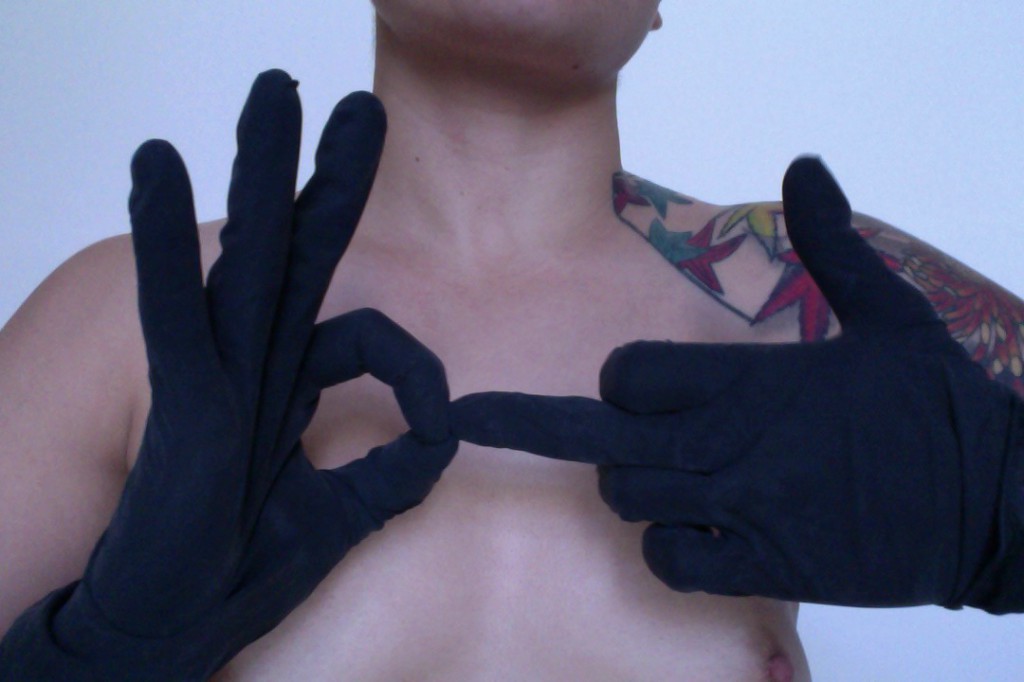 Syd Blakovich is a photographer, performance artist, writer, and mixed martial artist. Her primary interests reside in the realm of digital-media and experimental art, and her performances and visual work has been seen locally, nationally, and internationally. She is occasionally invited to lecture at universities and festivals about the politics of representation through the lenses of feminist, queer, and racial theories. Her passions reside in social justice and advocacy for at risk populations.
Follow Syd on twitter.