Adult producer and talent Syd Blakovich reflects on the last decade of working in the adult film industry, advancements of queer porn, iconic works of award winning director Shine Louise Houston and her upcoming project Snapshot.
"Fresh out of college, a new graduate with a huge amount of student debt turns to porn."
That statement may seem like it is torn from the headlines story, but context… context is key, and it's easy to blur, miss, and contort in the edits. Edits are where the front of one transcription is sown to the end of another in some all-too-common, yet predictable condition that's intended to get a "human centipede" type reaction, an abomination; something to spice up the narrative arch on an otherwise flat line storyboard. It is sex in all of its visages: the Sriracha to America's bland pop banalities. With a couple of drops or heavy handed dollops, the interests are piqued and mouths water.
But that's not why I am here. I am here in the Bay Area, sitting behind a keyboard, scrubbing audio timelines for synch claps, camera clicks, and remixing with moans and heavy breathing. Here is my Friday night where at live shows I squirt lube on people's buttholes at the precise moment when the camera pans on their faces to ensure maximum comfort during heavy anal penetration. Here, is where I write this post reflecting on the past ten years of my life spent in the adult film industry.
This year not only marks my tenth year in the adult industry: it is also the tenth year anniversary for Pink & White Productions, one of the first companies I had worked for, and despite the fact I no longer fuck on camera, a good portion of my workload (pun intended) and career, is porn-centric.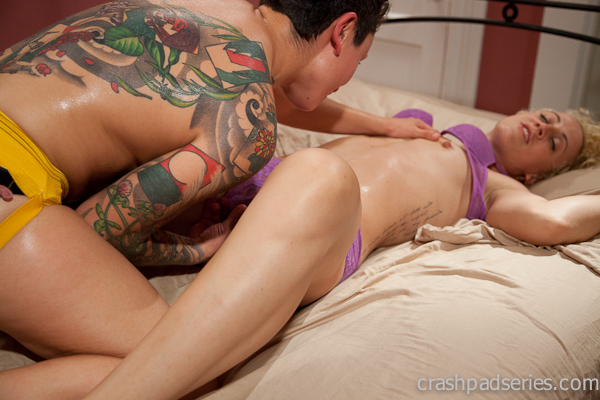 How does one get here you might ask yourself? Is it from insurmountable amount of debt, peer pressure, questionable life decisions, job market scarcity, or childhood trauma? This is definitely not my story, but an easy tale to weave considering the fact that job scarcity and student debt is something that pretty much any student is bound to suffer from these days. Yes, I do recall coming across a Playboy Magazine in my youth, but much like most adult things (furniture shopping, paying the rent, brunch…), my perception of it at the time was not interesting since I had way cooler things to do (basketball, Nintendo, and skateboarding). But I digress. What brought me to porn wasn't some inherent soul scarring experience. No, it was a far more subtle, yet meaningful, revelation that has brought me here… and kept me here.
To be honest, I never had much interest in porn itself. At least, not until I started to take art theory classes in college. It was about this time when I started to come into my own sexuality which had been severely repressed through a Born Again Evangelical Christian upbringing. Prior to this, I had no particular interest to sex, but of the fear and aversion that was religiously imposed. It was in college that I had my first real serious relationship, and it was with a woman.

Being a visual person, I searched voraciously for images and signs to help me better understand this new place in my life. I was introduced to the gay artists of the 1980's who became the icons and iconoclast that stood up to religious and governmental oppression. My being queer became synonymous with being out, loud, proud, and revolutionary. It was about being seen, heard, and making the very personal public in the face of blind Reaganomics, privatization of health care, and an epidemic that went unacknowledged and untreated. Symbols of gay porn were featured seamlessly in the high art. Wojnarowicz and Mapplethorpe were inspired by and integrated gay porn into their pieces. I searched for female queer artists who were more few and fair between. I found Cathrine Opie and Tee Corrine. I began to have very mixed feelings regarding the art world and wondered what good can the power of images provide if only a select few have access to them? It all came back to porn. Porn was in every household, corner store, newsstand and it was far more accessible than art — even before the Internet arrived.
Porn had this level of access and cultural currency that art could not touch. Larry Flynt notoriously said "the newsstand is the porn man's art gallery," and I found myself agreeing.
What has more impact on our general understanding of our own identity: fine art, or commercially available media? I wanted to be a part of the impact. As my graduation date loomed, I put my application in for a summer internship at only hardcore dyke porn magazine ever to exist. I had already sold some of my thesis prints to them, and got my first adult paycheck from my art/porn.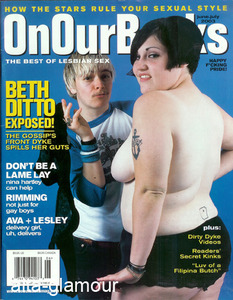 I relocated to the San Francisco Bay Area to intern part-time in the Art Direction Department of On Our Backs Magazine with Diana Cage as editor and chief.
It was a tiny office, run by queer folk and I spent hours filing photographs and tear sheets of dyke porn. Shortly there after, my friends helped me get a job at Good Vibrations which was at the time a women-owned sex toy cooperative where I met Shine Louise Houston.
After years of slinging dildos, lube, and porn, Shine felt compelled as a filmmaker to fill the gaps of an underserved market. There was very little dyke and queer porn with the exception of SIR Productions and Bleu Productions. Shine was ready to start her own porn production company, and asked if I could help with marketing and web design. I jumped at the chance, even getting involved in front of the camera. After seeing the final product of her first film, The Crash Pad, I knew I wanted to support her work and vision as much as possible and quickly signed on to become a producer.
The quality of Shine's work combined with her vision of reflecting queer sexuality had me hook, line, and sinker.
She was both an artist and risk-taker, someone whom I wanted to follow on my quest for visual representation and cultural revolution. She followed her break-through success of The Crash Pad with three back-to-back features: Superfreak, The Wild Search and Champion: Love Hurts. The later of which I was beyond honored to be a part of. The film became a bit of a time-capsule for my brief affair in Mixed Martial Arts.
Shine's features had always been full of wit and creativity, but were also limited since they were executively produced and owned by others. It is at this moment in time that I pitched the idea that she put her work online by forming CrashPadSeries.com. It was then that we began to work on something that would not only be on-going… it would be completely our own.
The CrashPadSeries.com began in my apartment on my bed, the kitchen, and livingroom couch with friends, and friends of friends manning the crew and talent. We flyered at local parties, threw play parties, went to events, and tidied up the house on weekends to get shoots done. I updated the website from my living room. As the site grew, the queer industry was also growing. Queer and gender-variant performers started to trickle into the mainstream.
We slowly carved a niche and language in an industry that built itself from labels — many of which were stale and past expiration. I began writing scene descriptions to avoiding the trappings of gendered language and categories based off of identity assumptions, while I went to LA to shoot lesbian porn scenes in my street clothes.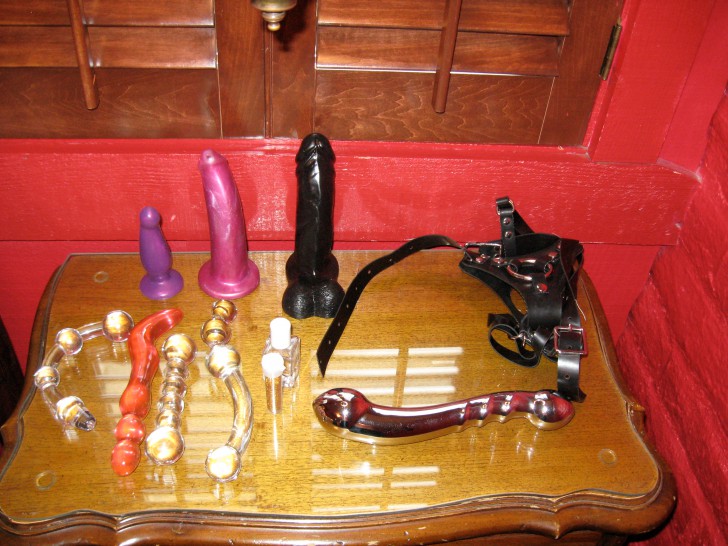 I spent the first five years working in front, as well as behind the cameras, doing everything from web management, editing, marketing, talent scouting, and more. Those years were in the midst of my roaring twenties, where "sleep when you're dead" was my motto and porn was more of a lifestyle and less of an occupation. (This is classic, for a workaholic like myself.) We held shoots in my apartment. My parties were filled with PR, and orgies, and networking. There was this unmatched velocity to life, which felt like a centrifuge where everything collided. Art imitated life, and then life imitated art, and it all imploded into this undifferentiated thing. It was at times beautiful, and often messy but raw. When you are traveling at top speed, you can either crash and burn… or start to learn how to pace yourself. Sometimes it is a culmination of the two.
Time also offers this mechanism for refinement, the decanting of an experience to learn and grow, both personally and occupationally. I had worked fetish, mainstream, and queer, traveling between LA and the Bay Area. I was out about the type of work I did with my friends and family, and found a very supportive community from within the industry.
I was able to sharpen a lot of my work skills beyond those used on camera. I made room for people in my life that were supportive of me and my ability to choose my work. Marketing, design, business management, and finances are just a few of the skills you pick up. Going into an occupational field, or any occupational field with your eyes wide open is vital. It's something that has stuck with me from full-time work to freelance. Job titles and responsibilities will change along the way, but the skills will stick.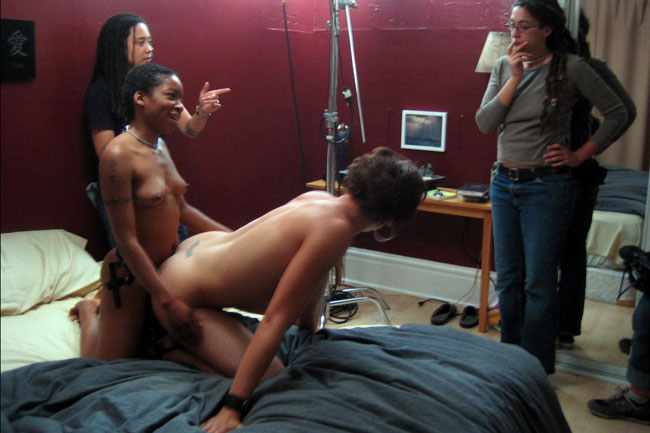 And now, I find myself here.
Here is what feels like both a watermark and a crest, anxiously awaiting the next wave with the experience of the past guiding me. Even though I am retired from starring in porn, porn is still very much a part of my life and will continue to be as I grow, change, and learn. The initial impact it made on my life as an artist, a queer, and a woman stays with me.
The canon of Shine's work serves not only as a creative source of inspiration, but also a means to document, testament, and verify my experiences of queerness in a young and furious time. When I look back on the work she has done, I cannot help but be excited about the work that is to come, to see how both her visions around queerness and skill as an artist has evolved… and where they may intersect with mine.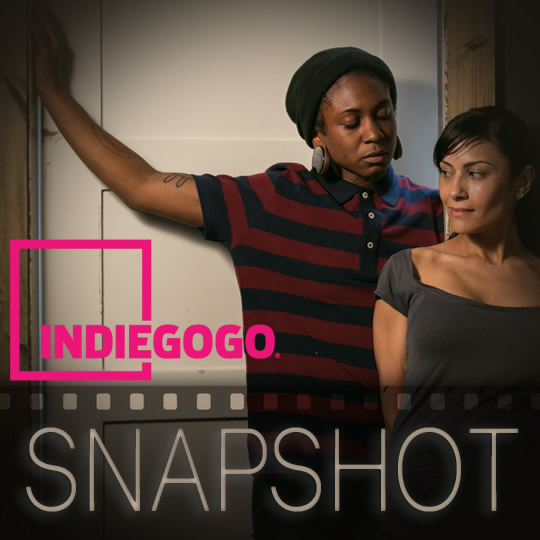 For many, Shine's latest project in the works, SNAPSHOT, may just be another movie, something to bookmark for a late night viewing. But for me — and perhaps for other queers that share my same cultural experience — it is a significant landmark in queer representation.
SNAPSHOT, a fully independently produced film, is not just about its narrative arch. In the context of the current cultural climate, it is about owning our own shit. It's about harnessing cultural traction in a way that reflects the visibility and power queers are coming into.
After a very lovely Pride and the historical SCOTUS decision, it's about damn time that queer artist are able to produce their work independently and find support within and from outside their own community.
There is only ONE DAY LEFT to contribute to Shine Louise Houston's first independent feature length film, and I recommend you donate.