A guest post by Syd Blakovich
I thought I'd put together a list of a few tips I have used during shoots. Hope you find it helpful and please leave your own personal tips in the comments.
1) "LESS IS MORE"
Part of the movie magic of editing is removing the fumbling bits in porn to make everyone seem oh-so-smooth at getting down to business. One personal trick is not wearing socks and keeping my shoes unties or loosely tied. It really cuts down on those awkward "Won't you be my neighbor" moments of trying to get out of a pair of shoes and socks. The exception might be having a pair of kickass boots that your submissive is slowly and sensually untying. If it's not part of the scene, chances are you can do without it.
2) "CHEATING OUT WHEN YOU'RE EATING OUT"
It's important to have a natural and comfortable presences in front of the camera but it's also important to remember that it still is a performance in which the camera is part of the equation. Consider the camera like another partner during your scene, and invite the gaze in. Make it feel included and provide it with glimpses of what you are doing. "Cheating out" refers to doing things at an angle so that the camera can get a better view. You will see performers do this especially while going down on someone usually at a 90 degree angle.
3) "GIVE GOOD HAIR"
If you are working with a long-haired partner and they are giving you head, it never hurts to lend a hand and help keep their hair out of their face and mouth during the action. Aside from preventing any rouge hairs from sneaking down their throat, it also gives the camera a great view of all the oral action.
4) "STAY HYDRATED"
The day before a shoot it's important to stay hydrated and eat well. Avoiding excess caffeine and alcohol leading up to a shoot can keep you nice and lubricated for your scene. This is especially true if it involves water sports or ejaculation. It can get pretty hot and sweaty under those studio lights, and it's definitely ok to stop for a water break, but stay in the game with taking care of your liquid needs.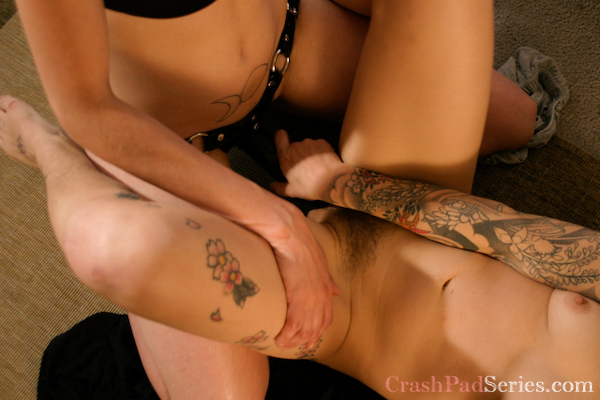 Syd Blakovich and Rozen DeBowe strap it on in CrashPad episode 5
5) "BEING ANAL ABOUT CLEANLINESS"
Butt sex is fun but chances are I don't have to tell you all this twice. The thing about doing stuff on camera, is that it has to be a little cleaner than in your personal time. Specifically, the presence of poop will trigger censors even if it is incidental so in order to minimize the surprise presence of "critters" appearing when not wanted is a little pre-scene prep. I usually do a lukewarm, plain water enema the night before and morning of the shoot. The first is a bit more robust than the second which is smaller and meant as more of a rectum flush. Never hurts to do a little "parascoping" with you finger in the shower to make sure you don't have any stragglers either. Having a carb heavy meal the night before and light breakfast minus any caffeine (or wheatgrass) will help prevent pre-mature digestions and movements. If you never have done an enema before, I recommend doing one in the evening when you don't have a shoot just to get some experience. Last but not least, a few baby wipes to tidy up with are always a great item to have on hand.
6) "BE A LIST PERSON"
Before getting on camera with a known or unknown partner it is necessary to know what your boundaries are and be able to communicate those to your scene partner and partners in general. People's on-camera boundaries can be a lot different than their personal life ones, so it's important to develop lists for both. Create three columns: "Yes, No, Maybe" and fill in the acts into the according columns. This is a fun activity to do with a partner or friend. Anything that falls in the Yes column is a go, but the No and Maybe items should be held off. Remember to be as specific and meticulous as possible, it makes it more fun!
7) STRETCH
Sex scenes generally run about 50 minutes. That's 50 solid minutes of fucking, sucking, sweating and moving. It's a workout and it's important to take a moment and stretch out before you step up to the bat. Hips, back, neck, arms, and thighs… you use them all. Sex is a great workout and the added presence of the camera can really kick up the intensity so treat it like you are about to run 3 very fun miles. If you aren't used to stretching, check out Youtube for some basic full body stretching warm-ups. I've been really into dynamic flow warm-ups myself.
8) SPEAK YOUR MIND
It doesn't mater if the cameras are on or off: communication is key and giving positive direction to your partner or asking for it is always a yes. It's great to talk before, during, and after your scene, constantly checking in and making sure everyone is having fun can really make for fantastic fucking.
9) POST PORN BLISS & AFTERCARE
The "up" from hot sex and exhibitionism can lift you high, but coming back down can be a trip so make sure you have a safe space to decompress after your shoot and supportive people you can talk to about it. CrashPad Series usually offers talent snacks, tea, and post interview to talk about their experience shooting. It wouldn't be queer without the processing, am I right? Once you get home, it's great to take a hot bath and curl up with a good book or movie.
10) "HAVE FUN"
Even if you forget all the other stuff, just have fun and enjoy yourselves. Don't sacrifice your pleasure for the sake of grace and composure, because editing can streamline any awkward fumbling but it can't create a sense of enjoyment if it's not there.
Syd Blakovich shot porn from 2005-2016 and appeared in Pink & White Productions' very first feature, The Crash Pad. Follow her on twitter @SydBlakovich.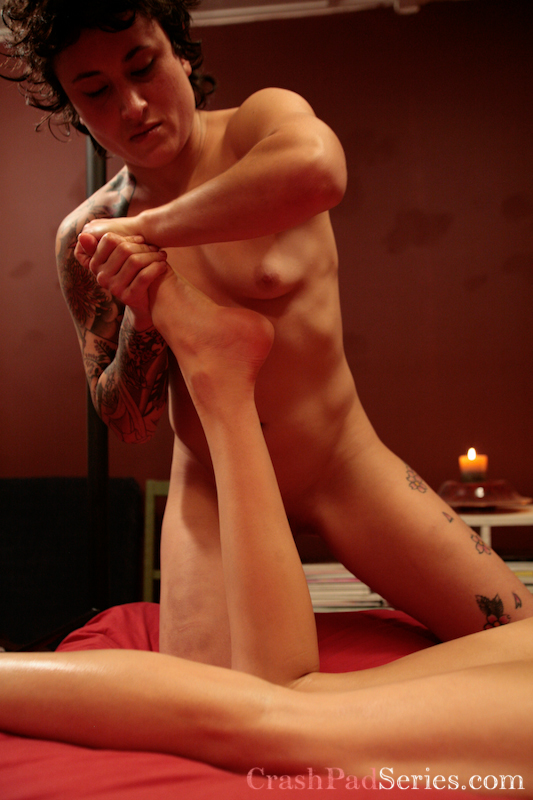 Image: Syd Blakovich massages Princess Donna in CrashPad episode 41
Editor: This article was originally posted on October 17th, 2013. It has been updated for relevance. Featured blog post image: Syd Blakovich and Dylan Ryan in episode 103.