Guest Blog Post by Lucky Tomaszek, Tool Shed Toys education coordinator.
I watched Episode 219 just a few minutes ago, eagerly taking notes as the scene unfolded on screen. If anyone else tried to read my scribbles, they'd be hard pressed to decipher any real meaning from the gibberish. That's because Chocolate Chip and Eros LaFemme kept my eyes glued to the video player, leaving my fingers racing (not very successfully) to keep up with my brain. We spend just 27 short minutes with these beautiful humans, but the scene is so engaging, intense and intimate that it feels like much more.
If someone had described this to me before I watched it, I probably wouldn't have been very excited. For one thing, I usually have a hard time watching kink and BDSM in porn because the scenes are often formulaic and full of stereotypes. There are lots of tear-stained faces, quivering people pushed to their limits by unrelenting and even cruel tops, and a heavy reliance on props and costumes. While porn featuring this kind of BDSM is a real turn-on for many folks, I find it doesn't reflect the real experiences of many folks in the kink community. Additionally, I likely would have hesitated because I like a lot of words in all areas of my life, including the porn I watch. I enjoy a ton of enthusiastic consent, a heaping of dirty talk, at least a couple implicitly stated instructions, and either some sass or some sweet nothings to round it out.
But with Episode 219, Crash Pad Series has filmed an absolutely beautiful kink scene, brimming with everyday realism, and almost no words (there are probably less than 20 words said in the entire thing, and no one speaks at all for the first three-quarters of the video).
And it's glorious.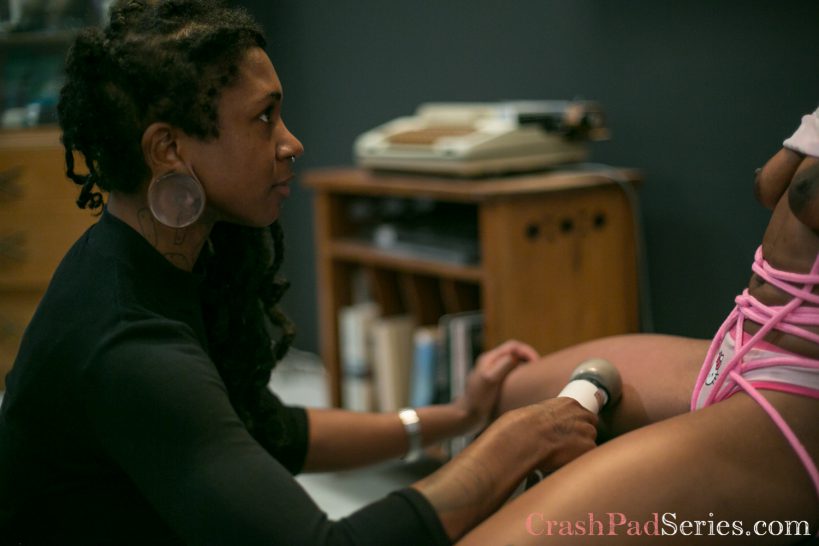 There is such amazing energy and chemistry between Chocolate Chip and Eros LaFemme. While Chocolate Chip is topping, she never takes her eyes off of Eros. You can almost feel her watching, evaluating and recalculating after every interaction. She is slow and deliberate, and lets the tension in the scene build naturally.
There is no need for Chocolate Chip to be cold or menacing, and I think it would feel forced if she tried. Instead, she takes very careful care of Eros in many ways, gently repurposing Eros's headband as a blindfold, thoroughly drying their hands before binding the wrists with bondage tape, tickling Eros, alternating tickling and spanking to maximize the tension produced by each. At one point, she picks Eros up and carries them to the bed, and she does it with such strength and precision that Eros just slumps over her shoulder like a rag-doll, trusting and ready for what comes next.
At every step, you see Chocolate Chip taking her role as top very seriously.
And then! Oh! When Chocolate Chip does break the silence, it's to check in with Eros, provide a little aftercare and find out what else Eros would like to do. To my great delight, Eros answered that they'd like more spanking and that's what they got! I cheered out loud on my couch. A video that shows a bottom exercising agency, and a top honoring that? It was so good – so very good!
The spanking that follows is pretty intense, both in terms of the (seeming) strength of the blows and the speed with which they're delivered. But as the camera stayed on Eros's face, you could see the big, easy grin and hear the soft quiet sounds of affirmation. They murmured, "oh fuck," and "mm hm," and they looked completely blissed out.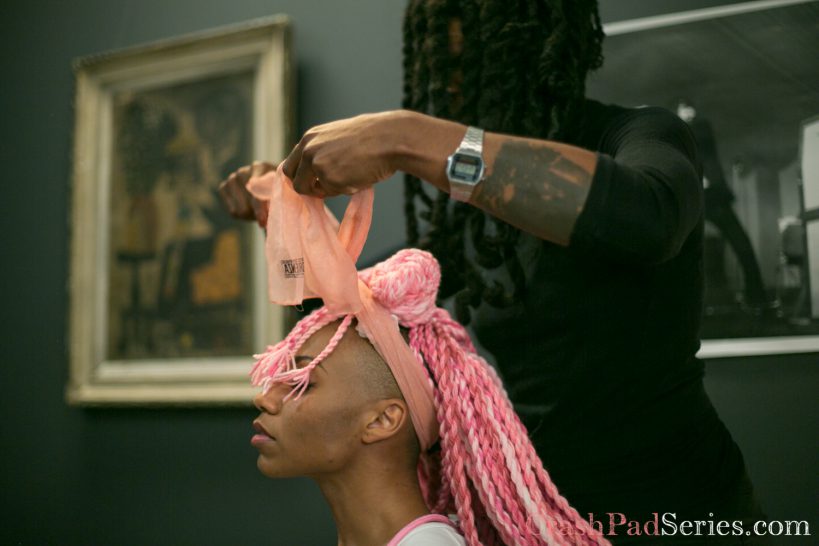 We wrap up our time with Chocolate Chip and Eros LaFemme witnessing some intimate and very sweet aftercare. Chocolate Chip once again effortlessly carries Eros back to their chair. She puts Eros's socks back on, and then she carefully removes the blindfold and ties it in a bow in their hair. It isn't exaggerated or prolonged, but it's very important. Aftercare is rarely represented in adult film, and many kinksters say it's the best part.
Chocolate Chip, Eros LaFemme and Crash Pad Series have done something truly special with this episode. If all porn was this genuine and creative, I'd probably never leave the house.
Watch the episode now on CrashPadSeries.com
Find the items used in this episode, such as bondage tape, pink nylon rope, and the Magic Wand Vibrator, at Tool Shed Toys. Thank you Lucky for the guest review. Follow her on Twitter at @luckyinmke.