Alt Porn Star (and so much more) Bella Vendetta is a pro in every sense of the word, having had over 13 years in the industry, and a porn career that spans alt, queer, fetish, and hardcore genres. For our "Porn Stars Review Queer Porn" series, she takes a look at CrashPadSeries Episode 9 Julie and Michelle Aston, Episode 124 Estelle and Christoph, and Episode 163 Jacques LeFemme and Papí Coxxx. What do porn performers think about CrashPad? Let's hear Bella's insider perspective.
When I mentioned that I was interested in reviewing some porn for CrashPad, they sent Me all the info. It was over a week before I got to check anything out. You know. I'm fucking busy, and things like free time don't exist. And sometimes, when your own job is porno, and you spend days resizing pictures of your naked body, and climbing poles and seducing people, and living out people's wildest fantasies in a dungeon, and taking phone calls from perverts (I say that in a loving way) and being on sets, and editing, and blogging, and encoding, and color correcting…………… and so on forever and ever and ever and ever! After being immersed with SEX and sexuality THAT much, sometimes the very last thing you want to do is spend your free fucking time looking at MORE PORN. I've been in the adult industry for thirteen years. That's like dog years in porn! I've seen a lot of wild shit, I've done a lot of wild shit, and I've documented a lot of it. There's not a lot of porn I get excited about anymore, to be honest.
And for that: CrashPad Series: I humbly apologize.
But it is clear, even after 20 minutes of being inside the site, that there is something very different, and something very special here. So much that made Me say "Hell Yeah!" out loud while I was looking around.
I had seen enough previews, trailers, clips, etc etc etc… to pretty much know what I was going to look at. When BellaVendetta.com was running, I would tell people: seriously, just looking at the previews doesn't even do it justice. Let Me tell you, that's not just a selling gimmick. It's true. So much beautiful imagery awaits you in so many various forms inside CrashPad. You could make a fucking job of exploring this site. If that's ever a job title, I'll submit My application.
The porn is sort of what you expect, except not really at all. It's refreshing. It's like a tall cool glass of porno lemonade. Handmade with love and sourced from local ingredients, with just enough tartness to make you smack your lips. Maybe there's even a few sun-ripened California raspberries in there crushed by hand by some lovely tattooed goddess with dreadlocks and stretch marks. Maybe that's a little telling of My own juicy brain and the way it works.
Anyone who feels sick of porn should buy a membership to this site. Just to check it out. It will make you go hmmmm. You will want to watch more. There's so many years of accumulated content you can watch the progression of the company and the evolution of the performers and people involved.
I of course have a well-known affinity for Jiz Lee, as I suspect a TON of motherfuckers join the site just to see Jiz's scenes, and you could watch them, for a long time and never get tired of it. And then when you've watched them all you could watch them again, and not be bored. But, dear porno pervert, I don't want to advise ill against your worship, I'm just saying… don't fall into a Jiz Lee hole. (It's sort of like a stylish talent twerking video hole on youtube, we all know those.) It seems it'd be an easy thing to do. Reserve some special time JUST for Jiz lee videos. BUT, don't forget: There's just SO many performers here who are stellar and super hottt, there is something any red-blooded human would like on this site. If you are curious about queer porn let this be the site that takes you in as a gateway drug. What CrashPad has created is admirable by any standard. I'm all about it.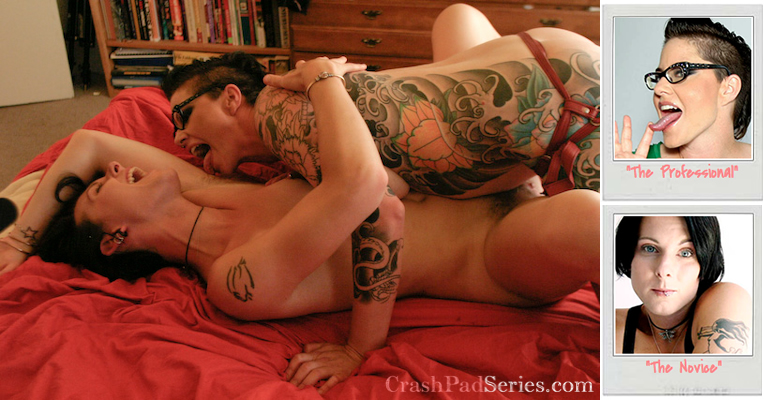 While scrolling thru episodes this was the first one that caught My eye to watch. (Except everything with Jiz Lee, but I think I'm biased and I didn't wanna come out the box picking favorites.)
I picked this one because I thought HOLY SHIT! Meet Michelle. Michelle Aston is old skool back from the days of altporn and I've always loved her stuff. She's been making porn for a long time, and I hadn't even seen her stuff in so long! Goddamn, does she look fantastic. I think she looks awesome naked, but for some reason was super turned on by her in jeans and a t-shirt. THANK YOU for letting her leave her glasses on! Holy shit, I love girls in glasses and so many pornographers make you take them off, I absolutely loved the fact that they stayed on for so much of the scene.
I was surprised by the amount of cheesy porno talk, it wasn't exactly what I'd imagined the site would be about. There was a lot of the "do you like that, that's right take it, are you a good girl" type of porno dirty talk that seems robotic and formulaic for Me. But that's also because I've been in porno for a long time too.
I thought that Julie was beautiful and I would love to see her in another sex scene with someone as her equal. This scene played out more BDSM and power exchange to Me than a "real lovers" type of sex. (Not that that's a bad thing!) It was like sex was happening TO Julie the whole time, instead of two people having sex together. I didn't feel the real chemistry until about 15 minutes in, when there was more eye contact and kissing. Even when Julie was going down on Michelle, she was doing so because Michelle TOLD her to, and ate her pussy exactly the way she wanted and was told to. Good at following instructions! Exactly the type of hotness I'd want to slave train from the bottom up.
I also LOVED the way this was shot AND edited. So much of seeing both their beautiful faces and Julie's reaction to things was nice. The explicit close-ups weren't done just for the sake of a close-up, they made sense and were beautifully lit and shot. So you actually do feel like you're in the CrashPad! Well done! I did find Myself craving for a long shot, though, just to see both bodies in the frame at the same time without cutting anything off.
I think the scene captured exactly what it was trying to: newbie to porn and maybe BDSM and maybe even queer sex (who knows, perhaps she has tons of experience, we just didn't get a chance to see her personality shine because she was just a plaything for Michelle) gets broken in by experienced older woman. If that dynamic gets you off, this is an awesome scene. That dynamic isn't My cup of tea. Luckily for Me there's PLENTY of other cups of tea to try on the site… so off I go.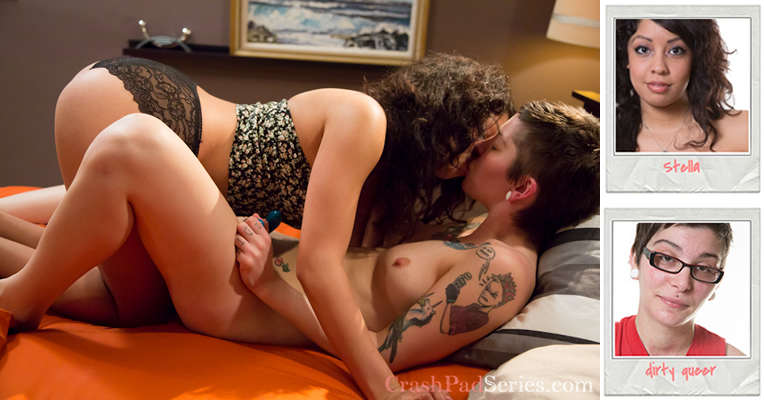 I found this scene because I searched the Characters page, and Christoph appealed to Me. So hottt! And then I kept watching because Estelle is also gorgeous! What an awesome pair. THIS looked like real life sex that I could get into. Like the kind of sex I'm having with My lovers. The scene starts off with them rolling the dice, and Estelle winning the high score, wins the joy of topping the adorable Christoph. They have a cute, sort of awkward time getting Christoph's clothes off. Sadly for Me, the glasses came off too. (When will someone ever make a hot queers-in-glasses porno for Me!?) Estelle has Christoph on all fours with these really hot white boyshorts on and uses a leather riding crop to tease and smack them. This was the weakest part of the scene for Me, because as a professional and lifestyle BDSM player, I have sort of grown to hate this soft BDSM playful smacking stuff. If BDSM is happening, I like it to be pretty traditional and old skool, but that's just My style. This was an awesome sex scene if you take away the light BDSM and just have it as a great scene in and of itself. Christoph calls Estelle "Ma'am" in the beginning but they don't keep up the dynamic throughout the rest of the scene, and I'm sort of a stickler for that stuff. The communication between the two is clear and verbal, a really refreshing thing to see on camera. Estelle is great at reading her partner, giving them just enough when they need it, verbally checking-in to see if her partner needs breaks, etc. To Me, communication is sexy so that totally gets Me hottt. Estelle works up to using a glass toy and a vibrating toy on her scene partner and they keep in constant communication and eye contact. By the time Estelle has Christoph on their back and is working her fingers, they have a really great moment of back and forth banter about Christoph needing a break from what they were doing, and then picking a glass toy to get fucked with. Legs open on your back on a bed isn't generally My cup of tea for porn too, but this played out so hottt, Lots of juicy pussy fucking sounds and really genuine noises coming from Christoph. Estelle keeps her clothes on the whole time, and is so beautiful I don't even think she needs to take them off. It was actually another refreshing aspect to this scene. Having someone be sexual and sexy without focusing on nudity. I loved it.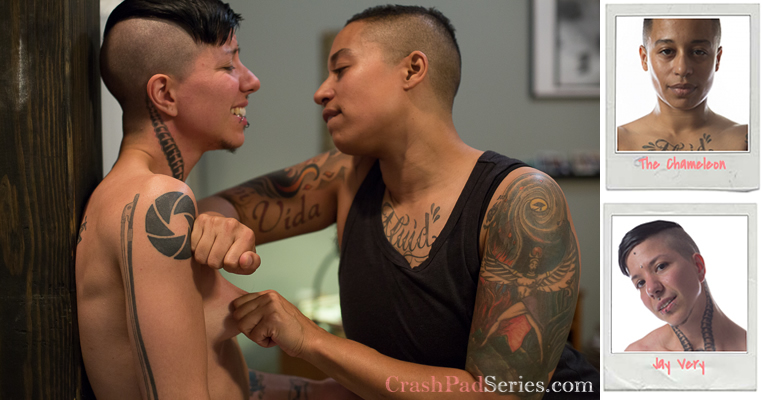 The description said "impact lovers rejoice!" and rejoicing I am! First of all, this scene should be some kind of queer porn classic. This has so many things I love.
Right off the bat, Jacques LeFemme dishes out a spanking to Papí Coxxx while holding them by the throat, and boy does Jacques know how to give a good goddamn spanking! Then an epic blowjob scene proves that Jacques is obviously really into fucking Papi's beautiful mouth. The impact play starts pretty much right away. There's dirty talk here, but it's not cheesy and it seems genuinely to come out of a place of pure filthy lust. Jacques has Papí straddling them while they kick Papí in the balls and stroke their own cock. One of the hottest shots of this entire beautiful scene. It's almost a surprise when Papí turns around and gives some loving hits and rough breast play right back. But it's a really sexy dynamic that works. Two kinky, pain-loving, freaky queers who obviously know what each other likes have a good time doing it.
Papí has Jacques up against the wall and they share some beautiful, passionate kissing interlaced with some really hard punches to the chest that take Jacques' breathe away in the most beautiful way. Nine minutes in is when Papí's clothes start to come off, and I think it was an appropriate amount of time, tease and warm up, by the time that nine minutes rolls around you are really amped to see Papí naked. Jacques has Papí on their stomach, ass in the air, and black medical gloves on, lubes them up and administers a really nice spanking before turning them over and stroking Papí's cock (Ha!) while choking and punching them getting them super hot and then fisting Papí into an intense, screaming orgasm.
Then there's some really tender moments of kissing before Papí pulls out a Magic Wand Vibrator and gets themselves off with it while Jacques goes back to putting fingers inside until Papí has an awesome screamer of an orgasm. The whole time, Jacques is stroking their cock. Papí instructs Jacques exactly which fingers to put and keep where before having a third orgasm. The fun doesn't stop there tho, because Papí gets a nice big black strap-on and Jacques asks so sweetly "please fuck the shit out of me." Which of course, Papí does. Then there's doggy while you get to see Jacques gorgeous face before they're pulled to the very edge of the bed and fucked harder while being choked. What an awesome way to cum! I was jealous! Jacques asks permission to cum in a super sexy way that put Me over the edge, and ends the scene thanking Papí. I thank you as well, Papí. Thank you from anyone who ever watches this scene.
And "thank you" to Pink & White Productions for giving Me this opportunity to check out and write about CrashPad!
Bella Vendetta is an award winning adult film star, internationally published fetish model, flesh hook suspension practitioner, professional and lifestyle Dominatrix of 13 years training and experience, as well as a sex educator, lecturer, workshop leader, chef, writer, reviewer, poet, journalist, metalhead, burlesque dancer, feature entertainer, performance artist, photographer, spoken word artist, pole dancer, clownographer, cam performer, stylist, seamstress, costume designer, set designer, chihuahua enthusiast… and So. Much. More. Is there anything Bella can't do?! Follow her on Twitter @BellaVendetta and browse her About.Me page for hot links galore. You're welcome! [Photo of Bella Vendetta by Steve Prue]